Sandalwood Essential Oil Benefits
Sandalwood essential oil benefits are widely known. The oil is extracted through steam distillation from a piece of sandalwood tree wood that has matured 40-80 years ago. It is found in many perfumes and air fresheners. It is a classic scent from a precious tree. But sandalwood oil's value may go beyond the scent. Sandalwood may offer some health benefits, too.
Sandalwood essential oil comes from the wood and root of Santalum album, or sandalwood tree of eastern India. (1) This is one of the most expensive trees in the world. Its products are used all over the world. West Indian and African sandalwood essential oils were also produced in the past, but are no longer widely available.
Sandalwood and its essential oil are highly valued in the field of alternative medicine. It is traditionally used to help treat a variety of conditions. Most of its traditional uses have not been scientifically tested, but some research suggests that sandalwood may help treat certain health issues.
Benefits of Sandalwood Essential Oil for Health
1. Antiseptic
Sandalwood is a very good antiseptic agent, it is safe as it helps protect internal wounds and ulcers from infection. Likewise, when applied to the skin, it protects wounds, sores, boils, and pimples from developing infections or from becoming septic. (1)
2. May stimulate hair growth
Sandalwood oil has been found to reduce the number of mast cells in rat studies. These cells are distributed around the hair follicles and may be responsible for shortening the hair growth phase (2). The oil can also promote hair growth in mice (3).
University of Manchester researchers have found that the scent of sandalwood can stimulate a specific receptor (called OR2AT4) in the body, which may prolong hair growth (4). More studies are needed to understand how effective this scent is in promoting hair growth in humans.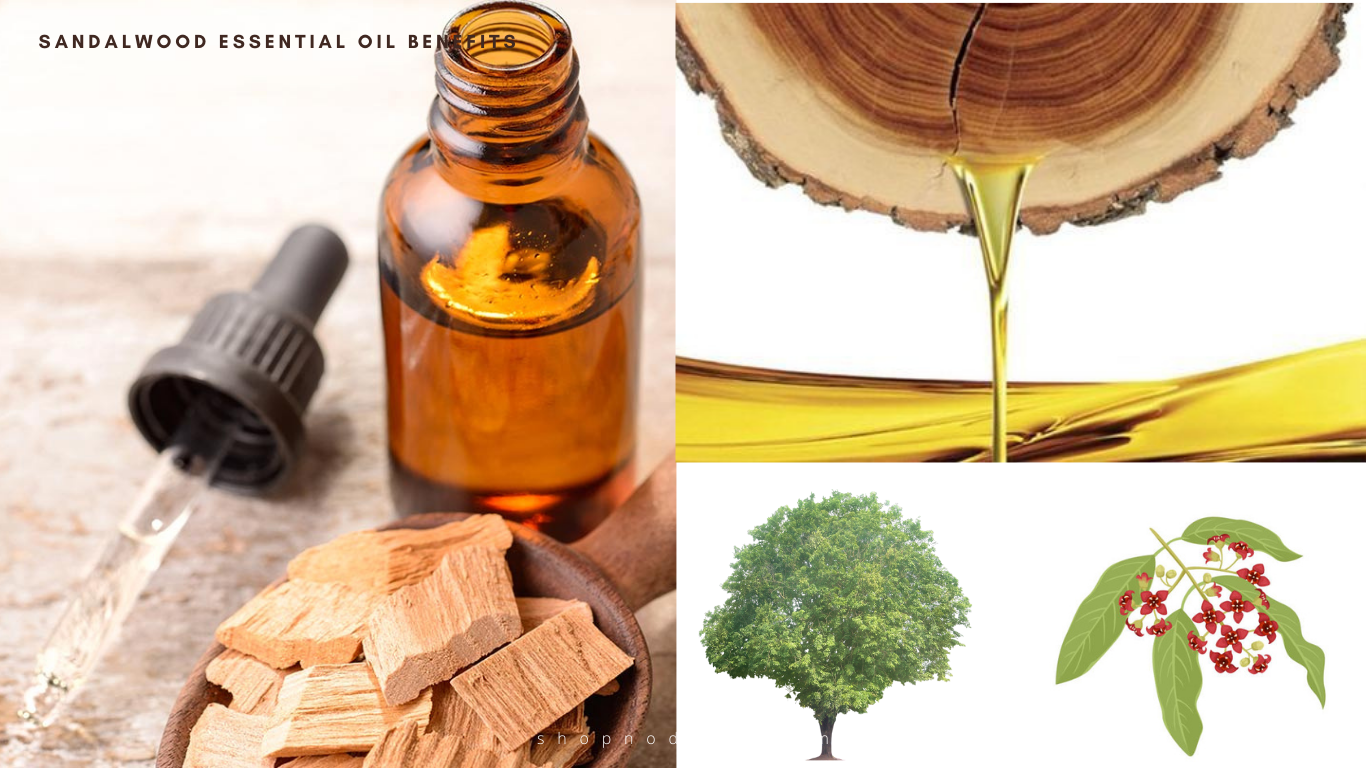 3. Anti-Inflammatory
Both sandalwood paste and its essential oil are very effective as anti-inflammatory agents. They have a nice cooling effect and provide relief from all types of inflammation in the brain, digestive, nervous, circulatory, and excretory systems that result from infections, fever, antibiotic side effects, poisoning, insect bites, or wounds. (5)
Sandalwood essential oil is especially beneficial in cases of inflammatory conditions of the nervous and circulatory systems.
As mentioned above, sandalwood oil has anti-inflammatory properties and gives relief from inflammation resulting from fever and viral infections.
4. Antispasmodic
Being both a relaxant and sedative in nature, this oil works great against spasms. It relaxes nerves, muscles, and blood vessels, thus ending spasms and contractions. Hence, it is useful in treating problems associated with spasms, such as cramps, pains, and coughs.
5. Diuretic
Due to its relaxing and anti-inflammatory properties, it soothes inflammation in the urinary system and induces relaxation, thus promoting the easy passage of urine. It also increases the frequency and amount of urination. This helps treat infections and inflammation in the urinary system because it flushes out dangerous toxins in the urine.
6. May promote sleep
Santalol, which is an active component of the oil, reduces the time of awakening and increases the overall rapid eye sleep phase (NREM) (6). The oil can help individuals who have difficulty sleeping (7).
7. Heals Wounds and internal infections
is the antiseptic property of sandalwood essential oil that justifies its widespread use in religious ceremonies and cosmetics. Its scent drives away microbes and small insects, which is why it is widely used in incense, sprays, fumigators, and vaporizers to disinfect large areas. Moreover, this oil can be mixed with bathwater, lotions or oils to be applied to the skin and wounds to ensure that they are protected from other diseases. This oil can also be safely taken with milk to treat internal infections, such as those of the throat, esophagus, stomach, intestines, and excretory spaces.
8. Balm
sandalwood oil soothes the skin, so it relieves inflammation and irritation, cures infections, and keeps you feeling fresh and cool.
9. Enhances the beauty
The antioxidant property of this essential oil extracted from sandalwood bark is widely used to promote healthy skin. Effectively removes free radicals from the skin and reduces oxidation. It also flushes toxins from the inner layers of the skin, promotes overall skin health and treats various skin infections such as acne, pimples, rashes, boils, etc.
10. Cough treatment
Sandalwood is especially used in the treatment of cough. It also fights viral infections that initially cause coughs, colds, flu, mumps, or any other illness.
11. Blood pressure
This is a very useful property of sandalwood essential oil. It can be taken with milk or even water to lower blood pressure in patients with high blood pressure. A paste of sandalwood has the same effect when applied topically to different parts of the body.
12. Improves memory
It improves memory and stimulates your ability to focus. It also keeps the brain cool and relaxed and saves you from unnecessary stress and anxiety.
13. Analgesic
This oil calms inflammation, anxiety, fear, stress, and insomnia. Moreover, it induces relaxation, calm, focus, inner vision, and positive thoughts.
14. Tonic
This tonic oil can be very good health to anyone, especially for growing children. It can be safely given to children, while many other essential oils are not. Since it is soothing on the stomach, digestive system, circulatory system, and nervous system, it also helps these systems function in harmony and without any abnormalities.
Other Benefits of Sandalwood Essential Oil
15. Some people use sandalwood as a deodorant to reduce body odor.
Sandalwood can be mixed with black pepper, musk, lavender, myrrh, rose, vetiver, and ylang-ylang to make a very nice blend with sandalwood for aromatherapy uses.
There is a bit of research here. Some reports suggest that the pleasant smell of sandalwood powder may help eliminate body odor that may come from excessive sweating (3).
16. May help relieve menopausal symptoms
Essential oils have specific properties that relieve and balance the symptoms of menopause. Sandalwood oil contains sesquiterpenes, which calms the nervous system — and this may help relieve menopausal symptoms such as hot flashes (15).
In clinical studies, the oil was also found to offer relaxing properties (15). It is highly prized for its fragrant heartwood and is used in perfumes for its excellent stabilizing properties.
Insufficient evidence for
17. May help relieve stomach problems
Sandalwood essential oil has been used in Chinese medicine to reduce stomach pain and vomiting. It is believed that the antiviral and antibacterial activities of the oil help fight Helicobacter pylori (the main cause of stomach ulcers).
18. May strengthen immunity
Aromatherapy with essential oils like sandalwood oil is believed to boost your immunity by inducing your body to heal itself. Anecdotal evidence suggests that the oil boosts white blood cell production, fights microorganisms, and improves your body's immune responses. However, further research in this aspect is warranted.
The benefits are amazing, right? Sandalwood essential oil has other interesting benefits uses as well.
19. In massage
Sandalwood oil has been widely used in aromatherapy and Ayurvedic massage. The oil has been reported to reduce anxiety in patients in palliative care who were treated with aromatherapy massage (9). Massaging with sandalwood essential oil also makes your skin extra soft (3).
20. In-cosmetics
The cosmetic use of sandalwood essential oil has been described in ancient literature. It was used to make soaps, perfumes, and aromatherapy products. A wide range of medicinal properties makes sandalwood essential oil one of the best and most trusted ingredients in cosmetics and beauty products (3).
21. In Ayurveda
Sandalwood oil has been used in Ayurvedic massages and medicines to treat various ailments, such as diarrhea, internal bleeding, bleeding piles, vomiting, poisoning, hiccups, urticaria, eye infections, and pelvic inflammation (12).
22. In the bath
Sandalwood oil kept the original fragrance and properties of the soap intact. The essential oil provides soothing, hydrating, anti-aging, and hydrating effects. It also has excellent cleansing, toning, and astringent properties, making it a prominent ingredient in soaps and creams. (3).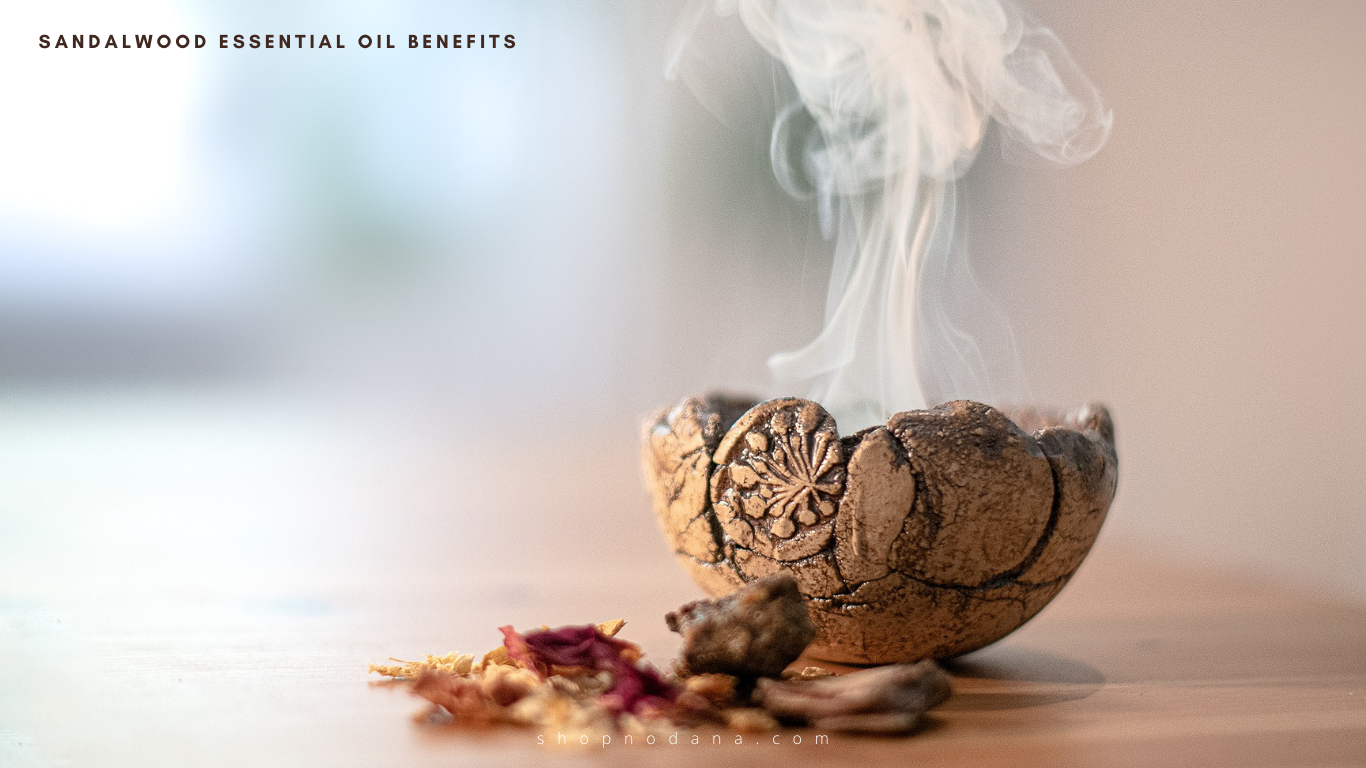 23. In perfumes
Sandalwood essential oil has a sweet, strong, and long-lasting scent (12). Due to its excellent proven properties, sandalwood oil has been used in first-class perfumes (3).
24. In aromas
Sandalwood essential oil is used as an aromatherapy agent from the ancient period. Its main ingredient is alpha-santalol, whose antimicrobial properties make it an ideal ingredient in aromatherapy products (3).
The uses of essential oil are extensive. But we recommend that you check out the next section as well. The oil may show some adverse effects in some individuals, although it is not dangerous.
What are the side effects of sandalwood essential oil?
Some of the possible side effects of the oil could be dermatitis and itching. In animal studies, the oil was found to be irritating to the skin (17).
Anecdotal evidence suggests that the oil may also cause gastrointestinal upsets, although this has not been proven.
It has also been found that some oils used in aromatherapy, in general, have the potential to cause seizures, coma, and CNS depression in animals (18). If sandalwood oil has the same effects, it still needs to be studied.
Please consult your doctor if you are prone to any of these conditions.
What is the recommended dose of sandalwood oil?
Although the ideal dose of the oil has not yet been proven, some believe that taking 1 to 1.5 grams of the oil daily (for a maximum of six weeks) can help treat urinary problems.
As a flavoring ingredient, the recommended dose is 0.0074 mg of oil per 1 kg (16).
There is no information on possible drug interactions with the use of this oil.
Benefits of Sandalwood oil to Enhance Memory :
Memory is an intangible thing. Rather, it is one of the brain's capabilities that enables a person to store and retrieve information.
Memory is classified according to its duration, nature, and retrieval of emotional states.
For example, very short memory works with sensory signals coming from the senses to stimulate specific sensory sites in the brain. Short memory after passing for a split second, the information disappears from the brain, but the information related to the event is stored in the frontal lobe of the brain.
The hippocampus transmits information to the center of emotion in the brain for a long time.
As for long-term memory, there are impressions of vision signals stored in neural connections where you link information to yourself that are connections in everything you know at the present time.
There are different centers in the brain, and learning is a building process that takes place in the brain by repetition.
Memory can be developed, and a person needs from time to time to develop and enhance memory, especially since stress, tension, work, and life emotions rob a person of the ability to remember.
It negatively affects him and his life, especially students during exam periods who go under stress. The student forgets everything as a memory. The individual's inability to remember is a clear indication of a defect and problems in memory.
Therefore, a number of specialists advise aromatherapy oils because of their strong effectiveness in influencing nervous connections.
The most important of which is sandalwood oil, which contains substances and compounds beta santalol, santyl acetate, and santalins, which maintain brain power and memory eliminate stress and anxiety, and contribute to calming the person and controlling his emotions.
Sandalwood has other uses or forms other than the oil, but the strongest effect of essential oil t is very clear on those with poor memory. (9)
You May Also Like