Cleaning kitchen appliances are so time-consuming? Do you think it is impossible for your kitchen to shine bright every day? With natural cleansers and a Shopnodana guide, nothing is impossible. Here are some quick and effective tips and guidelines to get rid of the toughest stains in your small kitchen appliances.
Electric Kettle
Cleaning kitchen appliances is cool! Let's start with the kettle, not only because it is one of my favorite appliances, but because it is faster and easier than a regular kettle. But with continuous use, some substances accumulate on the surface from inside the kettle, such as calcium carbonate and other mineral materials that are deposited from the water inside the kettle and appear as salt granules in tea or other hot drinks.
Fill half the kettle with vinegar and the other half with water.
Turn on the kettle. Leave it for 20 minutes for the vinegar to work like magic.
Rinse the kettle with running water.
If you see any other sediment, repeat above.
Rinse the kettle several times with lukewarm water to get rid of any trace of vinegar.
Blender
Cleaning kitchen appliances like blenders is not so hard. Whether you use the blender for juices and fruit with milk (milkshakes) only, or for thicker things instead of a beater or a stand mixer, this appliance needs maintenance from time to time.
Wash the container (jug) with warm, soapy water.
Rinse and dry it. With a damp cloth, wipe the container at the meeting point with the engine. And wipe the base itself that contains the motor.
Never immerse the stand of the blender in water and never put it in the dishwasher.
For stains and lingering residues, clean them with a solution of ½ cup of water and ⅓ cup of baking soda.
Turn the mixer on a little and then rinse it off
Automatic coffee grinder
For those who prefer an electric or regular grinder over a manual grinder, we all face the same problem, which is the granules stuck inside.
 Grind it with raw white rice. It will remove any stuck-on coffee grounds or spices.
If there is any particulate matter or smell, grind up a teaspoon of baking soda and wipe it off immediately.
Cleaning kitchen appliances- Electric Food Processor
When cooking, we always need to cut food into small pieces. The device saves a lot of time. But small pieces can be attached to the device.
Be careful not to cut your hands when cleaning.
Wash with water and soap and with a thin brush (nylon).
Do not submerge the base in water.
Clean it with a damp cloth using medium-strength liquid detergent.
To get rid of the smell, mix one amount of baking soda with the same amount of water and leave the mixture in the chopping bowl for 10 to 15 minutes. This mixture will absorb odors. And wash it with water.
Toaster:
The problem with toasters is that they collect breadcrumbs and need to be cleaned regularly.
Make sure that the toaster is not connected to electricity.
Leave to cool before cleaning.
Pull out the crumb tray and discard the crumbs, wipe the tray with a damp cloth.
If the roaster doesn't have a crumb tray, flip the roaster over and shake it to get rid of the crumbs.
Wipe the toaster with a cloth dampened in the cleaner.
Use a soft brush to scrape away the crumbs from inside the toaster.
Cleaning Kitchen Appliances- Electric oven (toaster oven):
A great device for making melted cheese sandwiches or making quick pizzas without using a big oven.
How to Clean

Electric oven

(toaster oven):
Ensure that the oven is not connected to electricity.
Leave to cool before cleaning.
Wipe the outside of the oven and crumb tray with a damp cloth.
Wipe the inside of the oven with a warm detergent after cooking fatty foods.
Cleaning Kitchen Appliances- Electric Beater: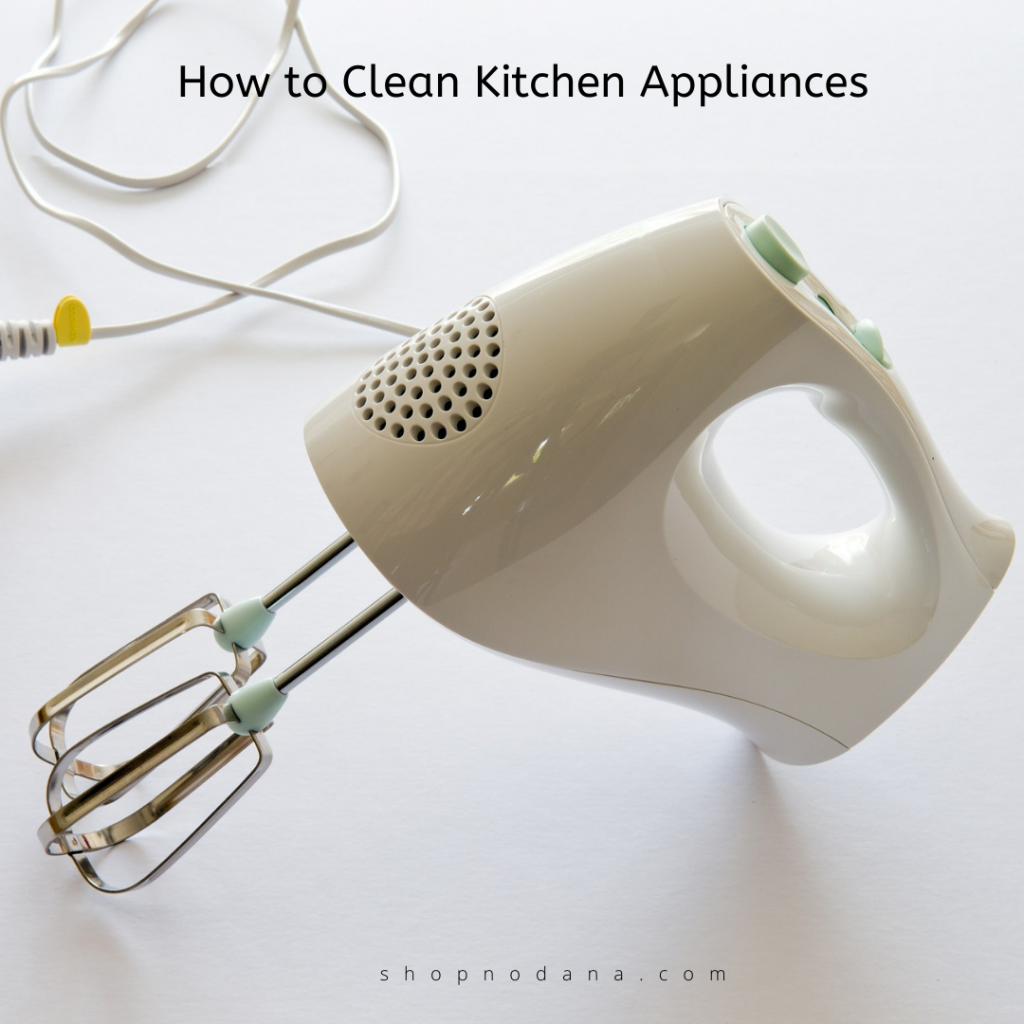 For all the baking ladies out there, we know you can't live without your electric beater always clean.
How to Clean Electric Beater:
Every time you use the beater, wash the beater with your hand.
Wipe the base with a sponge dampened with detergent.
If the hole is clogged, clean it with a toothpick.
Dear Mama, you can buy different cleaning tools to clean kitchen appliances
Sale
ACKLLR Coffee Grinder Cleaning Brush, Heavy Wood Handle & Natural Bristles Wood Dusting Espresso Brush and Nylon Espresso Machine Brush with Spoon for Bean Grain Barista Pasta Makers Home Kitchen
Durable quality:High quality natural pig bristles and smooth solid wood handle,very situable for daily using.Good designed to brush away coffee ground residue without damaging the blades.
Pig Bristles Round Handle Coffee Grinder Brush:It's natural bristlesso it's washable, but make sure it dries thoroughly before using it again. Don't soak it.Usually just flick all the grounds off and store it upright.A small amount of bristles shedding is normal, Please feel free to use!
Heat Resistance Nylon Coffee Machine Brush:Unique design and water deflecting fins keep your hands cool and dry while back flushing for everyday use.Clean your group head on your espresso machine perfectly.Good for brushing the group without burning yourself with boiling hot water.FDA security,washable.Suitable for all kinds of Rancilio espresso machine and Coffee Grinder.
Wide Applications: Professionally cleaning coffee powder,cleaning grinder, tea leaves, coffee grounds,flax seeds, spices, tea,dust etc.Essential tool to keep espresso equipment free of grounds. A must for all baristas to maintain their espresso equipment.Also grinders and pasta makers.
Solemn promise: As long as you receive the mask where you are not satisfied, we have no conditions provide you for a full refund or free replacement. You just need to send us an email.
Dremel Versa Cleaning Tool- Grout Brush- Bathroom Shower Scrub- Kitchen & Bathtub Cleaner- Power Scrubber for Tile, Pans, Stoves, Tubs, Sinks Auto, & Grills- PC10-02
VERSATILE CLEANING TOOL: Versa Power scrubber is best for small hard to clean surfaces like sinks, glass and stove tops, oven windows, glass doors, microwaves, grout lines, bathtub handles, shower grout, tile, drains, wheels, shoes, grills, pots, pans and more.
COMPACT & ERGONOMIC: Designed to fit comfortably in one hand, while a textured soft-grip handle offers comfort, control, and usability in even the tightest spaces. The cordless nature makes it hassle free and gives users the to ability to take the tool anywhere.
HIGH SPEED: Tool operates at 2,200 RPM for fast and efficient cleaning. Save time, make surfaces shine and enjoy the results of your daily cleaning with this power scrubber that spins fast for quicker results with less effort.
USB CHARGING: 33% higher battery capacity - 4V max 2.0Ah lithium-ion battery delivers 25 minutes of continuous runtime and constant power. Kit includes lithium-ion battery, USB charger and cord. A blue light on the tool will illuminate while charging and will turn off once fully charged.
QUICK-CHANGE ACCESSORIES: Make fast changes between a variety of Versa cleaning accessories with the hook and loop accessory interface. Switch between indoor and outdoor, dry and wet applications with ease.
OXO Good Grips Deep Clean Brush Set
Set includes: Large brush and small brush with wiper blade
Large brush is great for grout, shower door tracks, stove tops and more
Small brush is perfect for fixtures and other tight spaces
Small Brush's wiper blade cleans built up dirt from drains and other crevices
Durable scrubbing bristles. Nylon bristles
MR.SIGA Microfiber Cleaning Cloth,Pack of 12,Size:12.6" x 12.6"
ULTRA SOFT MATERIAL & SCRATCH FREE - Ultra soft and highly absorbent microfiber cleaning cloths, great for cleaning windows, kitchenware, car or other delicate surfaces.
ABSORBENT & LINT FREE - Made of 85% Polyester, 15% Nylon. These non-abrasive cleaning rags can soak up water from the countertop and tables instantly and without lint or streaks left behind. Clean with or without water, from worktops, appliances to kitchens, bathrooms, mirrors etc, they will make your house sparkling.
TACKLE VERSATILE CLEANING JOBS - These premium microfiber towels are also perfect dish rags which don't smell, removes grease and particles from microwave oven, plates, pots or pans effortlessly. Not only that, you will be amazed they are also terrific duster that removes fingertips from silverware and glasses easily and leaves your kitchen spotless.
REUSABLE & LONG LASTING - These microfiber towels feature high quality stitching with reinforced edges, they are durable and made to last hundreds of washings. They are lightweight, super absorbent and dry quickly, use them everyday to enjoy your cleaning.
MR.SIGA's mission: Make your housework easier, and make the world cleaner. Should you have any questions about the product or after-sale service, please do not hesitate to contact us. We are here for support and advice!
Easy Off Specialty Kitchen Degreaser Cleaner, Clear, Lemon, 16 Fl Oz
KITCHEN DEGREASER: Removes tough stains in seconds. Formulated to penetrate tough grease & grime, leaving you with clean kitchen surfaces and appliances in seconds
SOLUTION TO A CLEAN KITCHEN: Powerful and versatile. Use to clean stove top, back splash, kitchen counter & cabinets, oven, sink, and microwave
EASY TO USE: Just spray on the stain, wipe, and rinse
NSF Certified: Safe for everyday surface cleaning
Lemon scent
Weiman Stainless Steel Cleaner Kit - Fingerprint Resistant, Removes Residue, Water Marks and Grease from Appliances - Works Great on Refrigerators, Dishwashers, Ovens, and Grills - Packaging May Vary
#1 SELLING STAINLESS STEEL BRAND : Weiman makes the best selling and most trusted stainless steel cleaning products on the market
CLEAN & POLISH : A pH neutral formula quickly cleans, shines & protects any stainless steel surface. Does not remove scratches.
CONVIENIENT : Quickly cleans, shines and protects all stainless steel surfaces with a pH neutral formula compatible with all stainless steel surface
PROTECT BLACK STAINLESS STEEL : Polish leaves a barrier that resists fingerprints, dust, dirt and smudges
USE ON : Stainless steel refrigerators, black stainless steel, microwaves, oven, stove, grill, sink, range hoods, trash cans, warming drawers, compactors
Better Life Natural All-Purpose Cleaner, Safe Around Kids & Pets, 32 Fl Oz (Pack of 2), 2409C
Plant-Based, Biodegradable Cleaning Ingredients: Formulated with powerful natural cleaning agents like soap bark, corn and coconut and scented with pomegranate fruit extracts that break down and return to nature while being gentle on the planet.
Powerful Clean, Naturally: Our All Purpose Cleaner combines plant-based power and peace of mind, leaving your surfaces sparkling clean and smelling fresh, naturally!
Spray on Any Mess, Anywhere: Toilets, countertops, appliances, upholstery, baseboards, walls, floors, tables, showers, boats, cars, sporting equipment, toys – nothing's off limits!
Worry-Free Wiping: No added dyes, synthetic fragrances, or harsh, hard-to-pronounce cleaning agents! BETTER LIFE ALL PURPOSE CLEANER DOES NOT CONTAIN: sodium lauryl, laureth sulfates, petroleum solvent, parabens, ethers, alcohol or ethoxylates
Cruelty Free: BETTER LIFE is a Leaping Bunny certified company that never tests on animals.
Sale
Holikme 25Piece Drill Brush Attachments Set,Scrub Pads & Sponge, Power Scrubber Brush with Extend Long Attachment All Purpose Clean for Grout, Tiles, Sinks, Bathtub, Bathroom, Kitchen
* * ✔ 25Piece Drill Cleaning Attachment Set(Brush&Scouring Pads&Scrub Sponge), Includes:8piece of different purpose drill power scrubber brushes, 12 Piece different stiffiness Scouring pads,3 Piece scrub sponge with 4 inch backer and 1 piece Extended Reach Attachment
* * ✔5 Different Stiffiness Nylon Bristle: (White Bristle:Soft,Yellow and Green Bristle: Medium, Red Bristle: Stiff,Black Bristle: Hardest) :clean your bathtub, grout, upholstery, bathroom surface, floor, tile, shower, toilet and carpet etc, Nylon bristles will not scratch surfaces of them.
* * ✔12Piece DIFFERENT STIFFNESSES Scouring Pads and 3 Piece Scrub Sponge : perfect for kitchen cleaning Oven Stove Cooktop Sink Cast Iron Skillet Frying Pan Pots and Pans . The green pads are a bit stiffer and thicker than the red and grey ones.
* * ✔Time Saving: Get tired of the boring household cleaning? Try Holikme Power Scrubbing Drill Brush Cleaning brushes and Scouring Pads that attach to any cordless drill or impact driver, become a powerful cleaning tool. Get stubborn cleaning jobs done faster and achieve a deeper clean, definitely a good partner for your household cleaning. (DRILL IS NOT INCLUDED)
* * ✔Good Satisfaction – Every Holikme Drill Brush Attachment cleaning Product is good working performance and high quality.
What about you, supermoms? What are your secrets to cleaning appliances? Share with us
You should read
How to Get Rid of Cockroaches Forever
Wooden Floors Cleaning and Care Tips
You May Also Like