7 Benefits of Neem Oil for Hair and Scalp and How to Use It
Benefits of Neem Oil for Hair is a very well-known topic in hair care routine. Do you live in a busy city? Then some time in the woods or gardens is a blessing. The air is fresher, unpolluted, and full of oxygen from all those trees. Spending a few minutes may seem like a renewed remedy for your entire being.
And if you're looking for a powerful hair treatment, there's neem oil. An effective and wonderful oil from the Indian subcontinent, it heals the scalp, beautifies hair, and promotes hair growth.
Before we see the Benefits of Neem Oil for Hair, here's a quick look at the amazing neem tree.
What is Neem Oil and how to make neem oil at home:
Neem is a large evergreen tree that loves to grow in hot arid areas. No wonder they are found throughout India and its neighboring countries. Because neem is very beneficial for crops and humans, it is now growing in Africa, the Middle East, and Central America.
Neem leaves are small and delicate and grow packed in multiple branches, making the tree look extremely dense. However, Neem's most important function is its remarkable healing potential. That's why the neem is called "Sarva rogha nivarini" or "healing all trees".
Of course, not everything can or will not heal; neem can help in many things: rheumatism, scabies, parasites, diabetes, liver function, wound healing, skin diseases, hair growth, general health.
How to make neem oil at home:
Each part of the Neem trees – leaves, twigs, bark, and fruits – is useful, including neem oil extracted from the small oval neem fruits (which resemble green olives).
Here, you will need the following ingredients:
fresh neem leaves (possibly with stems), coconut oil, a good saucepan, and a sieve to filter the finished product.
The details of the process look like this:
1. Wash the neem leaves, then remove the excess water with a paper towel or let it evaporate naturally.
2. Pour a generous amount of coconut oil into a saucepan and heat it in the kitchen. Coconut oil is slightly milky when it is cold but loses this color while heating. You need to heat it until it is completely transparent and at the same time, grind the neem leaves with the help of a blender or grinder. You will receive a thick paste with leaf particles and stems.
3. When the oil is transparent, add neem paste and stir immediately. Let the mixture boil, stirring constantly and thoroughly when boiling, reduce the heat and continue cooking for several more minutes. When you see that the liquid in the pot is green, turn off the fire.
4. Filter the oil in a clean, dry glass container with a tight lid. Tap the residue very carefully: you don't want to lose expensive oil, do you?
This is how you can receive neem coconut oil easily. You can use this oil as it is or even melt it with some neutral essential oils to reduce concentration. Store in a cool place, do not expose it to direct sunlight and this extract will serve you for months.
Benefits of Neem Oil for Hair and Scalp
With its ability to fight bacteria, fungi, irritability, and itching, neem oil is a great remedy for many scalp conditions. In addition, it can also sort hair loss and promote growth.
1. Neem oil promotes hair growth:
First, by making the scalp healthy, neem oil helps the hair follicles grow and flourish unhindered by microbes. The yellowish-brown oil is rich in antioxidants that protect hair from damage and thinning.
Regular massage with neem oil will encourage thick, strong and wonderful hair.
How to use neem oil for hair growth:
#. 1/2 teaspoon of neem oil
#. 3 tablespoons of coconut oil
#. 10 drops of lavender essential oil (optional)
a. Place the neem and coconut oil in a bowl and mix well and use. You can also add essential oils to their effects that promote hair growth.
b. Massage Neem tonic in the scalp and hair. Leave sitting for an hour or one night (if possible) and rinse with a homemade or natural shampoo.
2. Neem oil removes scalp from itching, dandruff
The star ingredient of neem oil is Nimbin – with antifungal, anti-inflammatory, and antiseptic properties. It is an ideal formula to relieve dandruff and soothe the itchy scalp.
Fungi that cause dandruff membrane are expelled from the scalp and redness and irritation are soothed with neem oil.
To use neem oil for dandruff, you need:
# 1/2 teaspoon of neem oil
# 3 tablespoons of olive oil
Mix all ingredients and massage into the scalp and hair. Let him sit for an hour or so and wash it.
3. Neem oil brings relief from eczema
The skin of eczema appears dry, irritated, and peeled, and sometimes drinks the liquid. It is not easy to get rid of and can last for months or even years.
Neem oil is a great healer for the skin. Its anti-inflammatory properties soothe and soothe the skin, while its antihistamine effects reduce the sensitivity that may cause eczema
What's more, Neem Oil moisturizes, restores dry, cracked skin, and restores it to become healthy and smooth again.
To use neem oil for eczema, you need:
#1/2 teaspoon of neem oil
# 3 tablespoons avocado oil
# 5 drops of lavender essential oil (optional)
a. In a bowl, mix neem oil with almond oil. You can also add essential cedarwood oil which is also very useful for eczema.
b. To use, apply small amounts to eczema spots on your scalp or skin. Massage gently until the oil is absorbed and leave it on.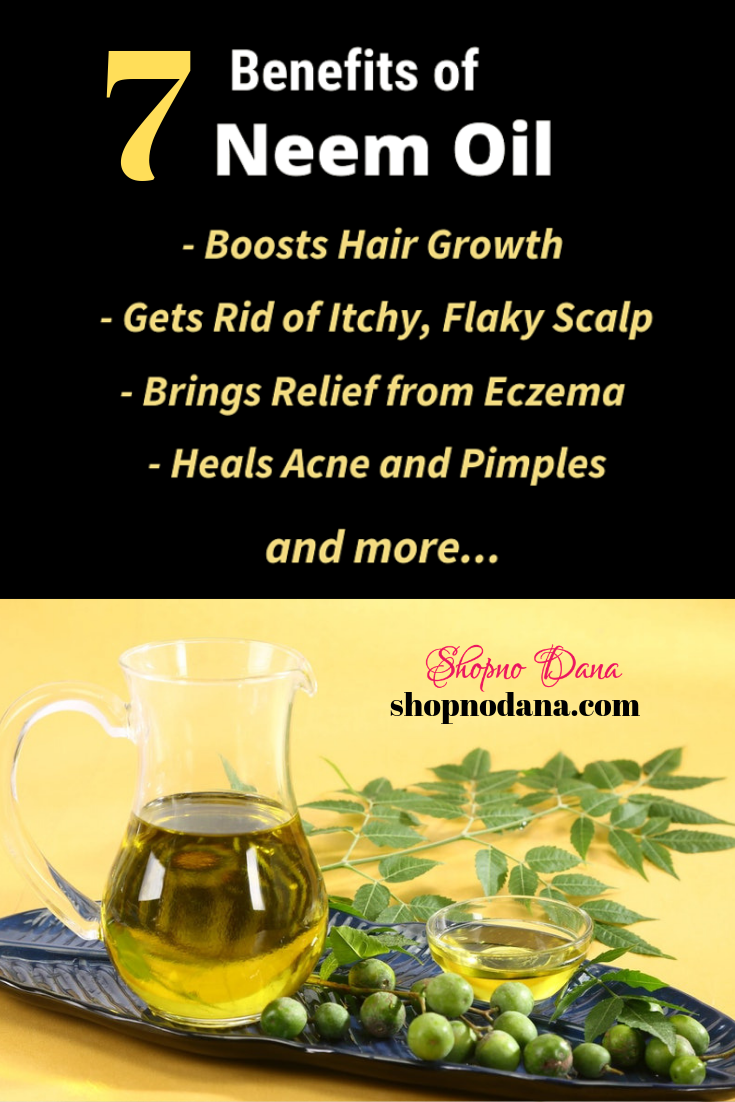 4. Benefits of Neem Oil for Hair- Neem oil can help reduce psoriasis
There is no medical treatment for psoriasis. Even neem oil will not benefit everyone. But there is no harm in a good old neem experience.
A large number of anecdotal reports indicate the use of this herbal oil to treat psoriasis. Besides, Ayurveda, the ancient Indian medical system, recommends the use of neem to reduce the size and redness of psoriasis skin.
Moreover, due to its antimicrobial properties, neem oil acts as a skin guard and protects cracked or open skin from secondary infection.
You can use neem oil in the same way as using eczema (see above), or try rubbing a few drops of neem oil arranged on the skin.
5. Neem oil heals acne or pimples
No matter where acne – the scalp, face, or body – neem oil will shrink from those annoying avalanches and help you get smooth and clear skin. All thanks to its astringent and anti-inflammatory effects.
In addition, neem oil enhances the natural immunity and health of your skin and helps prevent future breakouts – which is great.
To use neem oil to treat acne, you need
#1/2 teaspoon of neem oil
# 1 teaspoon fills soil or bentonite clay (optional)
a. You can simply apply neem oil on the acne spot and let do its job.
Or you can apply neem oil with the clay of your choice – fuller or bentonite.
b. Place the neem oil and mud into a bowl and add a little water to form a soft paste. Apply on pimples and allow to dry. Wash with plain water.
6. Neem oil removes lice
Neem oil is very deadly for head lice. It is one of the best Benefits of Neem Oil for Hair. Its qualities insecticides disrupt the growth, nutrition, and reproduction of lice. So you will kill them in the end. In the process of getting rid of lice, neem oil will benefit your hair by making it soft and smooth, and your scalp is healthy and nutritious.
To use neem oil for lice, you need
#1 teaspoon neem oil
# 3 tablespoons of coconut oil
# 20 drops of aromatic tea tree (optional)
a. Place the neem and coconut oil in a bowl and mix well. You can also add tea tree essential oil to make the mix even more powerful – the tea tree has lice-killing properties.
b. Massage your scalp and hair and make it sit for a few hours before washing. Repeat this every day until the lice disappear.
7. Benefits of Neem Oil for Hair- Reduces split ends:
Neem oil reduces split ends which makes the hair unmanageable. Rub neem oil toward the end of the hair, it helps to treat the split ends. You can also mix some neem oil with olive oil for better and quick results.
What can I do about the smell of neem oil?
Neem has a strong pungent odor. Not the best smell, but as seen above, neem oil is extremely useful for hair and scalp. So you can ignore the smell, or you can hide it by mixing it with carrier oil and essential oils.
Also, the smell disappears in a few minutes. At least that's what I noticed. Or maybe my nose got used to it.
Where to buy neem oil?
Many sellers add artificial fragrances to neem oil to make it smell better. But this oil will not be very effective and may cause more harm than good.
Always buy cold-pressed neem oil in its pure state. Neem oil is yellowish-brown, and becomes solid in cold weather (just like coconut oil).
Best  Cold Pressed Neem Oil
Bestseller No. 1
Organic Neem Bliss 100% Pure Cold Pressed Neem Seed Oil - (16 oz) High Azadirachtin Content - OMRI Listed for Organic Use
Good for All Neem Oil Uses: Our 100% Cold-pressed pure Organic Neem Oil is perfect for all kinds of neem oil uses. It is very effective as an indoor/outdoor plant spray. It is also great for skin, hair and nail needs. Our pure form makes it the perfect solution for any situation that calls for Neem oil!
OMRI Listed (for organic use): It is listed by the Organic Materials Review Institute (OMRI) as a certified organic product that complies with the standards within USDA.
100% Cold-pressed: The oil is taken without any use of heat or chemical additives to retain the pure form of Neem oil. The cold press process retains those essential nutrients, potent and active elements to ensure that you are getting the best results.
Bestseller No. 3
Harris Neem Oil, 100% Cold Pressed and Unrefined Concentrate for Plant Spray, High Azadirachtin Content - OMRI Listed for Organic Use, 12oz
100% Cold Pressed & Unrefined - All natural with absolutely no chemicals or additives included to ensure that the neem oil retains its original composition
Cosmetic grade - The oil is high in antioxidant compounds that soothe the skin
Organic gardening uses - used in organic gardening to keep plants looking healthy
Mix with lotions or shampoos - Antioxidants, vitamins and essential fatty acids provide nourishment for hair, nails and skin
Satisfaction GUARANTEED - If you aren't fully satisfied with our Neem oil, contact us and we will issue a full refund no questions asked
Bestseller No. 4
Bestseller No. 5
Premium Organic Neem Oil Virgin, Cold Pressed, Unrefined 100% Pure Natural Grade A. Excellent Quality.(4 Fl. Oz.)
✅ NEEM OIL - Milania Neem Oil is guaranteed to be authentic, pure, natural, and hexane free. 100% Guaranteed Authentic or FULL REFUND.
✅ NATURAL SOLUTION
✅ JUST ONE INGREDIENT - 100% Pure Neem Oil, natural, cold-pressed. 100% non-toxic.
✅ 100% MONEY-BACK GUARANTEE: Providing with the friendliest customer service is our number one goal. We offer a 30 day money back guarantee on our premium Organic Neem Oil if you are not satisfied with your product.
✅ Organic - Cold-pressed - Vegan - Gluten-free - No preservatives - Non-GMO
Bestseller No. 6
Harris Neem Oil Spray for Plants, Cold Pressed Ready to Use, 20oz
Ready to Use - Simply shake and spray directly on your plants both indoors and outdoors
Cold Pressed Neem Oil - The only RTU on the market formulated using cold pressed neem oil
Sustainable & Eco Friendly - Comes with a variety of uses to keep your plants looking healthy
Shines Foliage - Shines plant leaves and leaves a luster to your foliage all year long
High Concentration - Uses 2% concentration of neem oil with an eco friendly emulsifier
Sale
Bestseller No. 7
Bestseller No. 10
MAJESTIC PURE Neem Oil - 100% Pure Cold Pressed - Great for Skin Care, Hair Care, Massage Oil, Nails, Acne, & Moisturizer for Dry Skin - Neem Oil for Plants Spray, and Essential Oils Mixing - 4 Fl Oz
100% Pure & Natural Neem Oil - Majestic Pure Neem Carrier Oil is expeller-pressed from pure neem oil plants with no additives or dilution, so you can get the full benefit of the neem oil
Head to Toe Moisturization - Versatile neem oil can be used to nurture your hair, skin, and nails. Fantastic for use at home in making DIY skincare and hair care recipes
Hydrating Massage Oil - Our Neem oil for hair is highly hydrating and absorbs quickly. It is excellent for a relaxing massage while keeping skin soft and moisturized
Great Carrier Oil for Diluting Essential Oils - This can be used to dilute essential oils before applying essential oils onto the skin. It can also be used as neem oil spray for indoor plants and outdoors.
Cruelty-Free & Made in USA – At Majestic Pure Cosmeceuticals, we are proud to provide you with cruelty-free products made right here in the United States of America. This neem oil for skin is pure and natural
Side effects and cautions of neem oil:
It is not common to have neem allergies. However, if you have never applied neem oil, do a patch test on your forearm to make sure you do not react. Also, if you are pregnant, nursing, or have a medical condition, consult your doctor before using neem oil.
The benefits of Neem oil for hair and scalp (summery):
Not very fragrant but very useful, use neem oil for your skin problem and hair loss.
Helps promote hair growth and reduce hair loss
Neem oil relieves eczema, psoriasis, acne as well as lice
Use neem oil to soothe the scalp and get rid of thinning dandruff.
Stay with nature! Walk through the gardens, forests, and farms to boost your spirits and use natural remedies like neem to promote healthy hair and scalp.
Do you use neem oil on your hair and skin? I'd love to hear about your experience. Please participate in the comment box below.
Read also
Top 50 Wonderful Neem Oil Benefits for Skin and Hair
Ancient Indian Hair Growth Secrets
Jasmine Essential Oil Benefits
You May Also Like