Ancient Indian Hair Growth Secrets
What are the Indian hair growth secrets? What ingredients or beauty care routines make their hair so black, long, strong, and shiny? In this article, we will explore those hair secrets.
Having smooth, shiny, long, and straight black hair is the dream of every woman, girl, and even a child. When we talk about smoothness and luster, we certainly want to know the secret of the beauty of Indian hair, as they are one of the most peoples that have given hair special attention since ancient times. After the spread of oils and hair care products In the local markets, the constant question has become: How do Indian women take care of their hair? In this article, learn all the secrets.
Ancient Indian Hair Growth Secrets
Indian women use natural hair oils to take care of their hair with a special routine for washing and nourishing the hair. Here is the secret of the beauty of Indian hair
Good nutrition for the body to nourish hair:
Indian women believe that hair nutrition and health come from taking care of a healthy diet for the body itself.
So that it reflects on the health and shine of the hair. We find useful fruits, nuts and spices always available on the Indians' trip, to get all the vitamins, minerals, proteins, fatty acids, and antioxidants they need to have healthy, perfect and long hair.
Oil baths to nourish hair:
Oil baths are a basic routine for hair care for Indian women, and as we mentioned before, they are prepared for prevention before treatment.
There are oil baths to prevent breakage and dehydration in hot weather and there are baths to moisturize and nourish hair in the winter season.
It is important that all oils are natural and extracted Cold and massage the scalp to the ends well.
Rinse hair with cold water
Everyone loves a nice, warm shower, but if you want your hair to grow long, you'll have to get used to rinsing it with cold water.
Coldwater closes the hair cortex and stimulates blood circulation, which leads to faster hair growth.
It also helps isolate the moisture from the conditioner, leaving your hair shiny and healthy. You can start with a warm shower, just wash your hair with cold water at the end. Indian women follow this rule.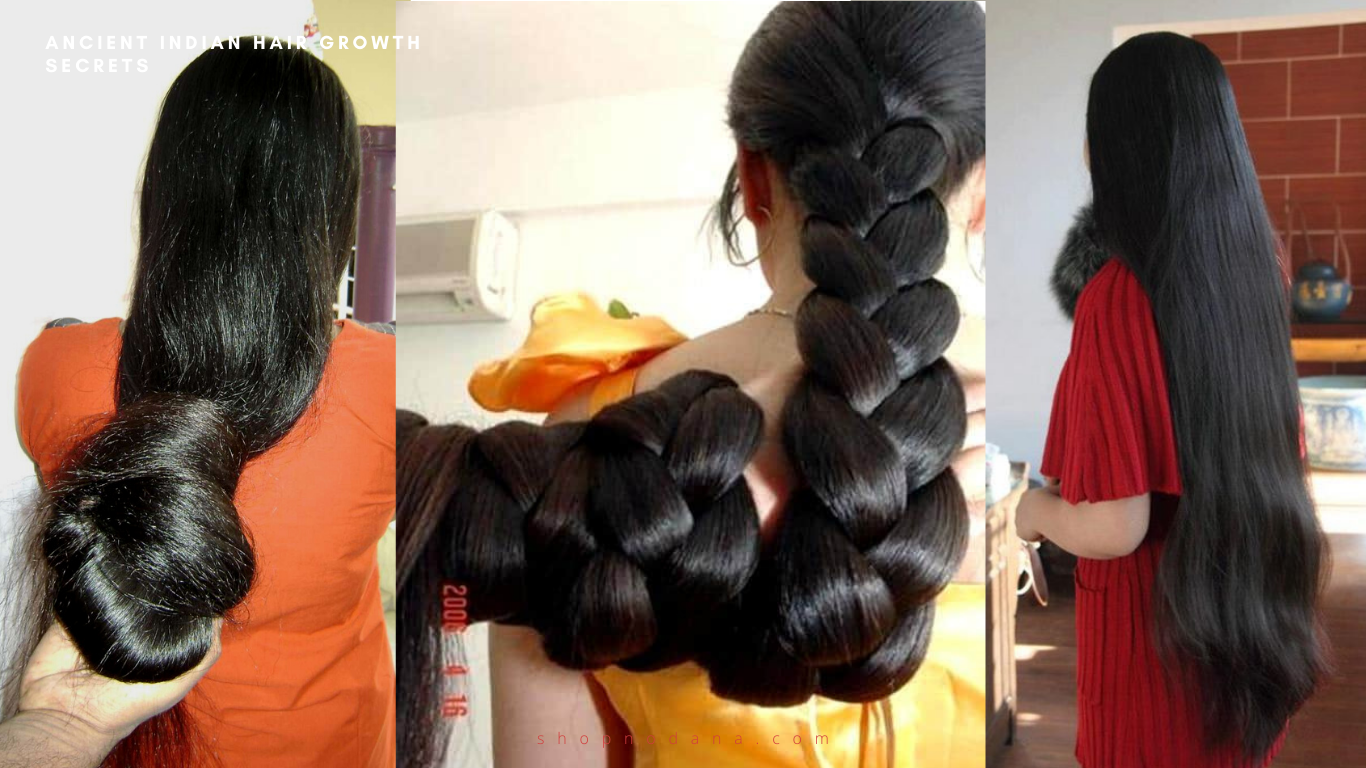 Shikakai
Among the ancient Indian hair growth secrets, the traditional Indian hair care method is very effective.
Shikakai is also called "fruit for hair" and is a natural product made with herbs to cleanse and protect hair. It can be used to make chemical-free household shampoo.
You can also use store-bought shampoo that uses shikakai. Its benefits are numerous, such as strengthening hair, fighting dandruff, delaying graying, and preventing lice from detangling hair and making it shiny. (1)
Shikakai naturally strengthens hair and promotes hair growth. Its antifungal properties provide nourishment to the scalp and help treat dandruff. (2)
Shikakai keeps their scalp clean and healthy by maintaining the pH level and fighting infections. It is indeed one of the best options for getting natural hair growth.
One of the ancient Indian hair growth secrets, Shikakai also has inherent properties to prevent graying of hair.
Eliminate chemicals with nature:
Indians usually resort to nature in everything related to taking care of their hair. You will find them using henna as an alternative to dye, and amla, saffron, and sidr to nourish and lengthen hair.
Usually do not use heat to style hair, they trim their hair themselves and leave it hanging without pulling, curling, and stress.
They use natural nutrients wash their hair with a sulfate-free cleanser and definitely use cold running water to rinse the hair.
They don't wash hair every day
Washing your hair every day can strip excess moisture from your scalp, leaving it dry and even flaky.
Washing your hair twice a week is a good rule of thumb to keep your hair safe from drying out.
If you feel like you need to wash it more than twice a week, stick to it every other day, but not every day.
Balayam technique
"Bal" means poetry and "Vyayam" means exercise, so Balayam is an expression of the hair.
This ancient technique is held in great importance in Ayurveda and has been captured in many books as well. As a matter of fact, It is one of the most popular techniques in traditional Indian hair care.(4)
Balayam is one of the simple yoga techniques that help in the re-growth of hair. Under Balayam, one has to rub his nails whenever he has time.
One of the secrets of ancient Indian hair growth, it works that the nerve under the nails is connected to the hair follicles, so rubbing the nails improves blood circulation in the head area. This technique is very effective and has been found to reverse gray hair as well.
Having been passed down for generations, this is one of the most trusted Indian hair care secrets to ensure healthy hair.
Taking care of hair from birth:
Indian women care about the hair of their children since birth, it must always be neat and groomed, away from harmful dyes and chemicals, and then grow healthy and soft without problems. Indians leave their hair loose and relaxed too.
Haircare is just like the skin:
Indian women take care of their hair exactly like they take care of their skin, or more precisely.  They do not wait for a hair problem to occur to treat it, but rather work to prevent it from the expected problems before they occur.
There is a weekly routine of massaging the hair with natural cold-pressed oils. The most famous of which are Natural coconut oil, herbal oils, and oils extracted from trees and natural plants. The type of oil and its use varies with the seasons of the year
Using coconut oil before showering
Coconut oil is a superfood for many reasons, and it's one of the best-kept secrets of fast hair growth of Indian hair.
Before showering, they massage the hair with coconut oil and leave it with a shower cap for 30 minutes to an hour.
Coconut oil is full of vitamins and essential fatty acids that nourish the scalp and remove the sebum buildup that comes from the hair follicles. It stimulates hair growth and helps it grow faster and thicker.
5.  Braiding hair
What is the most used hairstyle in India? Good old braids or making plait as we know them better. What many don't know is that braids are proven to be healthy for hair growth.
Apart from giving your hair a natural wavy texture, it also keeps your hair de-tangled thus preventing breakage and promoting growth.(3)
Now let's move on to hair care recipes from India directly.
Indian Recipes for Fast Hair Growth
After we know the secret of the beauty of Indian women's hair, we learn about Indian recipes for hair using Indian oils and herbs.
Sidr herbs for hair thickening:
Sidr bark powder is used in Ayurvedic traditions. Sidr, also known as jujube, allows you to take care of hair.
Sidr brings a lot of benefits. It is rich in saponins, which is an excellent vegetable ingredient for washing hair. So it can replace shampoo.  It leaves hair soft without necessarily using a conditioner or hair mask.
Rich in mucilage and astringent, sidr powder is highly effective for sensitive scalps and will help fight dandruff, increase hair volume.
It can be used alone as a mixture with other preparations.
Sidr powder can also be useful for skin problems such as acne, psoriasis, eczema…Moreover, it calms and soothes itching.
You can mix Sidr with some water to turn it into a paste and leave it on your hair for about 20 minutes. It cleans the hair strands, strengthens them, and makes them thick and shiny.
Henna for hair softening:
Henna is one of the most used ingredients for hair in India, use Indian henna paste to moisturize and soften hair, it gives it a more lively and revitalized look and gives wonderful fiery color to dark hair.
Amla for Hair Strengthening:
Also known as Indian gooseberry – a type of high-benefit rare berry – it contains 10 times the vitamin C content of oranges, so it is great for use as an oil bath or daily lotion by adding it to almond oil or olive oil to soften, lengthen and get rid of hair. It is one of the most famous oils in the Arab world and is used for adults and children safely. It also gives a dark and shiny black color to white hair.
Natural oil baths:
Specifically, coconut oil bath, castor oil, sesame oil, sweet almond oil, olive oil, and hair wash with cold Indian tea.
Saffron to prevent hair loss:
As one of the most expensive spices in the world, saffron is not only an essential ingredient in cooking, but is also an important ingredient for Indian women for hair care, as it is rich in vitamins, antioxidants, and minerals. Mix saffron infusion with any of the above ingredients to get strong hair. Not flaking.
The aforementioned four ingredients are the essential ingredients in Indian hair recipes for length, luster, and volume.
Finally, my dear, do not forget that obtaining natural oils to capture the secret of the beauty of Indian women's hair is not difficult or impossible, it is enough to get coconut oil, amla powder, henna, or saffron oil from a trusted source in your town and then start your hair care routine immediately.
Buy Amla or Gooseberry, Sidr, Saffron, and Henna, Shikakai powder here
Sale
Amla Berry Powder (1lb) by Naturevibe Botanicals - Organic Gluten-Free, Raw & Non-GMO (16 ounces)
Indian gooseberry, commonly known as amla, is undoubtedly a powerhouse of nutrients. It is an uncommon balance of sweet, sour, pungent and bitter flavours. amla powder is great and have wonderful benefits for overall health.
Benefits of amla powder or Amalaki are aplenty and it can be consumed in any form be it juiced, powdered or eaten raw. You can pickle it, make a jam or have candied amla. Being a very rich source of Vitamin C, iron and calcium, amla is a health treasure.
It also offers a number of beauty benefits for your hair and skin. Amla is a very special fruit full of antioxidants. One of the best ways to have amla is in the powdered form. Since amla powder is a bit bitter tasting, you can drink a mix of amla powder, ginger powder, honey and lime juice or you can even add amla powder to a glass of fresh juice for breakfast.
You can also sprinkle some amla powder on fruits such as banana, apple or papaya and have as a mid-meal snack. Another one of amla powder benefits is that it gives you glowing skin and also keeps it hydrated. Consume it with water or add it to your face mask for natural glow.
You can mix amla powder, honey and yogurt to make a quick face mask. Leave it on till it dries and then wash off. It will leave your skin smooth and clean.
Terrasoul Superfoods Organic Amla Berry Powder (Amalaki), 16 Oz - Rich in Antioxidant Vitamin C | Supports Immunity
Terrasoul Superfoods Amla Berry Powder, 1 Pound
Certified Organic, Non-GMO, Earth Kosher, Raw, Gluten-Free, Vegan
Amla Powder has vitamin C, and contains other potent antioxidants that can help restore energy, digestive health, vitality, flush toxins and rejuvenate your system.
Terrasoul Superfoods sources the freshest and highest quality superfoods from all over the planet. Our mission is to make these amazing, healthy foods available to you at the lowest prices possible while paying our growers and employees fair wages.
100% Money-Back Satisfaction Guarantee - We stand behind our products and offer a 30-day money back guarantee, backed by an outstanding customer service team.
Sidr Powder by mi nature | 227g ( 8oz) (0.5 lb ) | Sidr leaves Powder for hair | Natural Hair conditioner | Natural source of mucilages and saponins | Natural hair cleanser
100% Natural and Pure Sidr / Jujube Leaves Powder. Excellent moisturizing and conditioning agent.
Natural Hair Wash - Sidr is an excellent source of mucilages and saponins. Sidr powder Gives Delicate wash to your hair. The best part of Sidr is that it helps retain the hair color obtained using Henna Powder. The shampoos made out of the Chemicals rinse off the color.
Apart from being rich in mucilages and saponins, Sidr powder leaves also contain flavonoids, iron, vitamins, tannins, and mineral salts. The de-inflammatory effect soothes the itchy and sore scalp.
Acts as a natural moisturizer and conditioner thanks to the presence of mucilage. Adds volume to hair, Retains hair color, Refreshes the Skin.
Methods of using Sidr for hair : Put 3-4 tbsps of Sidr Powder and gradually add hot water. Mix until the pasty, and free of clumps. Wet and section your hair, then apply the mixture starting from the roots until the ends. Work the mask on your scalp and throughout your hair. Leave it on for 15-20 min. Rinse off completely with warm water.
Sale
Sale
mi nature Henna Powder (LAWSONIA INERMIS)/ 100% Pure, Natural From Rajasthan, India (227g / (1/2 lb) For Hair Dye / Color,
100% Natural, Raw, Vegan, Pesticides Free Henna Powder (LAWSONIA INERMIS)
Chemicals & Metallic Salts Free Hair Coloring & Conditioning
High Lawson Content for Guaranteed results.
Natural red henna color
"mi nature" is committed to producing the highest quality products and Natural Herbs that are sustainably sourced and fairly traded. All our products are 100% natural and processed in FDA Registered Facility in India. ""mi nature"" products bring you closer to nature & mother earth. We believe in creating for our customer by making them healthier. Our processors take care that each and every products is processed in the purest form and packed hygienically. To help you get the best utility.
Zaran Saffron, Superior Saffron Threads (Super Negin) Premium grade Saffron Spice for Paella, Risotto, Tea's, and all Culinary Uses (2 Grams)
Highest Quality Saffron Threads, Super Negin Grade Saffron. Zaran Saffron is a Family-Owned and Operated business with over a decade of experience in Saffron.
Zaran Saffron is Perfect for all your Cooking needs, such as Golden Rice, Paella, Risotto, Golden Milk, and Teas. Saffron has many health benefits and can be used medicinally by consuming as a tea or It can be ground into powder form for use in saffron extract supplements.
Lab Tested in accordance with ISO 3632, our Saffron is tested for the highest levels of (Crocin) Color, (Safranal) Aroma, and Picocrocin (Flavor). 100% Pure and unadulterated Saffron. Your Safety is our #1 Priority.
Satisfaction Guaranteed | If you are not 100% satisfied with your order, send us a message and we will refund your order in full. No questions asked! At Zaran Saffron, we want each and everyone of our customers to have an amazing experience!
Have Questions? Send us a message, we love to help.
Saffron Powder 2gm Pure Afghanistan Super Premium Saffron from Afghanistan by Multiple Award Winning Divine Healing Saffron (Zafron) luxury spice grind saffron
SAFFRON QUALITY GURANTTEED! Our Saffron having the highest crocin (color) concentration of 300 (certified) makes it multiple award winning Saffron in the world. NEW in the market of SAFFRON, but we have the mission to bring fresh and most SUPERIOR Saffron quality to our customers. If you try our Saffron and not happy will refund you. Please contact us.
11% DONATED- EVERY CHILD DESERVES TO SMILE . 11 % of our profit contributed to Orphan children and victims of Physical Abuse. We provide job for women in need.
WORLD'S MASTER CHEF- BBC multi-award-winning and World's Gastronomy's Taste Ambassador MasterChef Alan Coxon, "Pleasure to welcome Divine healing saffron to my chefs' jacket! A stunning quality product that I love using and a company with strong ethics"
FAQ
What is the secret of Indian hair?
Regular oil massage, use of homemade packs, and use of natural ingredients like gooseberry, henna, and shikakai are the main reasons behind thick Indian hair. Apart from this, natural yoga techniques like Balayam have been used by many to increase hair growth.
Which nationality has the best types of hair?
Caucasian, Asian, and Indian hair samples have been tested for the best hair study in the world. Their findings put an end to any poetry dichotomy on the issue: In terms of health, Indian poetry is the best, topping other ethnic groups on all four counts.
Is Indian hair costly?
However, recently, the value of Indian hair has jumped as high as $500, and women are willing to pay up to $4,000 for longer, thicker hair. As a result, the human hair trade has turned into a profitable market on a large scale in the United Kingdom, the United States, and other parts of the world
How can I grow my hair faster naturally?
Let's try these 8 steps that may help your hair grow faster and stronger like Indian hair.
Avoid a restricted diet
Check your protein intake
Try products that contain caffeine
Discover essential oils
Boost your nutritional profile
Indulge in a scalp massage
Consider platelet-rich plasma (PRP) therapy
Hold the heat
What is the secret of rapid hair growth?
Scalp stimulation promotes hair growth by bringing nutrients to the hair follicle (where hair grows). You can easily stimulate your scalp by massaging your scalp gently every time you wash your hair, every night before bed, or by brushing. Try to do this massage at least once or twice every day.
Does gooseberry and lemon juice help in promoting hair growth?
Yes, gooseberry is very popular in India. When used with lemon, it definitely promotes hair growth and keeps hair healthy. Blackcurrant and lemon are high in vitamin C, which stimulates collagen production and aids in hair growth.
Why do Indians have thick hair?
Regular oil massage, use of homemade packs, and use of natural ingredients like gooseberry or amla, henna, and shikakai are the main reasons behind thick Indian hair. Apart from this, natural yoga techniques like Balayam have been used by many to increase hair growth.
Read also
Resource
You May Also Like