Babies are the most precious being in this world. In fact, human babies are the most sensitive and helpless compared to other species on this earth. Their skin can be damaged quickly in direct sunlight. Sudden sunburn may cause a medical emergency to them like high fever, dehydration, infections, chills, rashes, blisters, or a sudden heatstroke. So Choosing the best sunscreen for toddlers is the most important. Because a bad and harmful sunscreen can make a risk of long-term damage.
What is sunscreen?
A combination of several ingredients that help our skin to prevent the sun's ultraviolet radiation (UVA, UVB) is known as sunscreen. It's also known as sunblock, suntan lotion, or sun cream. According to the Centers for Disease Control(CDC), in the United States, skin cancer is the most common form of cancer. Sun exposer is a major factor in skin cancer's growth. Sunscreen is a barrier that protects our skin from UV rays. We know that UVA causes moles, wrinkles, vitiligo, and scars. On the other side, UVB causes sunburn. keep one thing in the note that no sunscreen can blocks 100 percent of UV rays. All sunscreen should reapply after every two hours or ASAP after swimming or sweating. Sunscreen should be always kept in a cool and dry place. With proper storage, a sunscreen bottle can be last for five to 10 years!
Is sunscreen safe for infants?
An infant's skin is thinner, sensitive, and not enough matured compared to adults. In addition infants- under six months have a higher surface area-to-body weight ratio than older kids and adults. An infant's exposure to the chemicals in sunscreens may increase the risk of side effects from sunburn. But as they need more protection, you have to cover them up to keep them safe from sunburn. Infants should be kept out of direct sunlight, especially between 10 AM to 2 PM, when the sun's ultraviolet (UV) radiation is most intense. Newborn babies should be protected from the sun with umbrellas, blankets, and canopies.
What is the Best Sunscreen for toddlers?
Sunscreen is safe for 6 months older babies or toddlers. Avoid exposing your toddler to the sun from 10 a.m to 2 p.m even he or she is fully covered with sunscreen. A New York dermatologist and author of Beyond Beauty, Debbie Palmer, DO, described the importance of dressing toddlers in protective clothing (like hats, sunglasses, and sleeves). If it's cold or cloudy outside don't skip the sunscreen. Keep in mind that on a completely cloudy day, up to 40 percent of the sun's ultraviolet radiation reaches the earth. This misperception often leads to the most serious sunburns, because people spend all day outdoors with their babies with no protection from the sun.
What Should you look for choosing a Sunscreen for toddlers
SPF:
SPF or Sun Protection Factor is a measure of a sunscreen's ability to prevent UV rays. For example, a sunscreen with a 15 SPF  can block 93 percent of the sun's UVB rays. The higher the number, the better it works – according to the American Academy of Dermatology.
1. SPF 15 can block 93% of UVB rays of the sun
2. SPF 30 can block 97% of UVB rays
3. SPF 50 can block 98% of UVB rays of the sun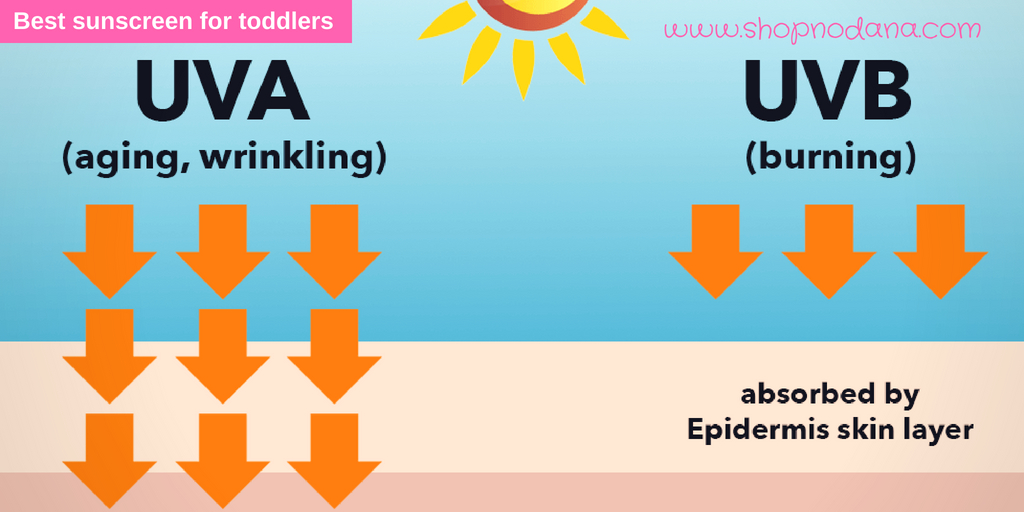 The best sunscreen for toddlers must undergo FDA-approved SPF testing. Mainly there are three types of SPF testing-
1. SPF Static
2. SPF Water-resistant for 40 minutes
3. SPF Water-resistant for 80 minutes
Broad-spectrum:
Broad-spectrum sunscreen can protect both UVA and UVB rays. So choose a sunscreen that can protect your toddler's sensitive skin.
Specially Formulated for toddlers or babies:
Make sure the sunscreen is formulated for toddlers or baby's sensitive skin. No harmful chemicals are added.
Water or sweat-resistant:
Be sure that your sunscreen is water or sweat-resistant. And how much time it remains active underwater and when to reapply it. You need a stronger, water-resistant, beachwear-type sunscreen that holds together on your skin. The "water-resistant" and "very water-resistant" types are good for hot days or while playing sports in the pool or beach water.
Patch test:
Whenever you starting using sunscreen on your toddler, please perform a patch test first. That applies to a small area of skin to make sure that is your baby can tolerate the ingredients of the product.
Mineral or chemical :
If your baby has sensitive skin or other allergies then mineral-based sunscreen will be better for him. Mineral sunscreen agents like Zinc oxide and titanium dioxide less irritate babies' skin than a chemical-based sunscreen. avoid sunscreens that contain PABA or oxybenzone.
Tear-free:
The best sunscreen for toddlers would be tear-free and non-greasy. Avoid sprays that may expose the lungs to harmful chemicals.
How to apply sunscreens on the skin:
Here are a few tips and tricks to put sunscreen on a toddler's soft and sensitive skin.
Apply a small amount of sunscreen to the head of a baby. If the baby doesn't have any hair on the head make sure to cover the scalp with sunscreen.
 When in the sun, babies should wear long-sleeved clothing, hats, and even sunglasses. Those little eyes are very sensitive and can be affected quickly.
Sunscreens should be applied 30 minutes before sun exposure to allow the ingredients to fully bind to the babies' skin. (1)
Make sure to reapply sunscreen every two hours or as soon as a baby gets out of the water. This is as important as the first-time application on the skin.
We recommend you the best Sunscreen for toddlers:
# These sunscreens are not recommended for babies who are under six months.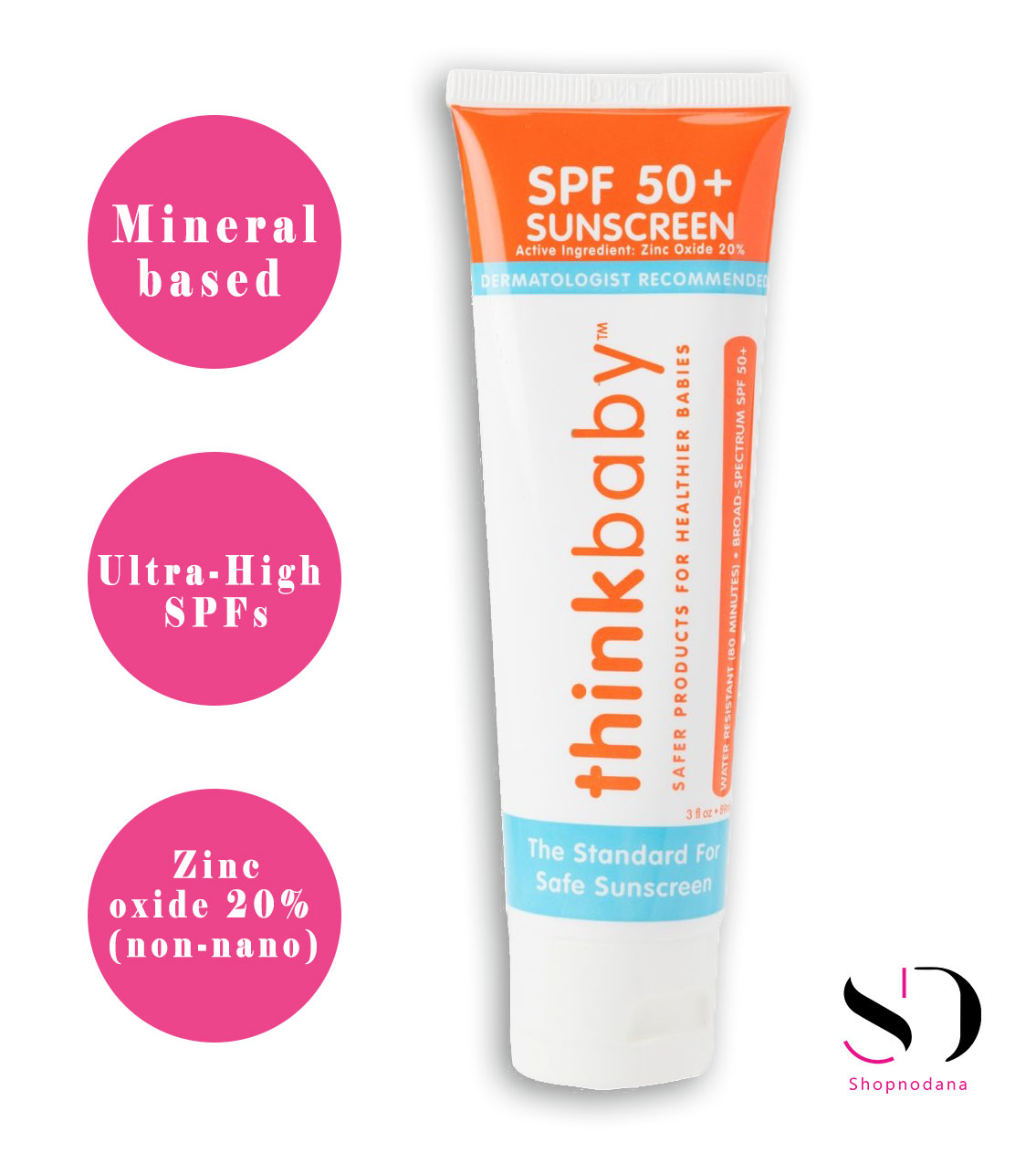 Thinkbaby SPF 50+ is water and sweat so you can use it in a swimming pool or beach water. It is a safe, healthy, waterproof sunscreen that's easy to put on, feels, and smells good like vanilla and orange. Think baby sunscreen is not oily, thick, or greasy and spreads easily on your baby's skin. This sunscreen contains Zinc Oxide (non-nano), whole-leaf aloe vera gel, avocado oil, wild carrot, jojoba seed oil, olive oil rosemary, cornstarch, beeswax, and other natural ingredients.
There are no harmful chemicals. Thinkbaby donates a percentage of its revenue to support Lance Armstrong's LiveStrong Foundation to fight cancer. It's quite thick and takes some time to rub in It is a little pricey but you can find good deals on Amazon.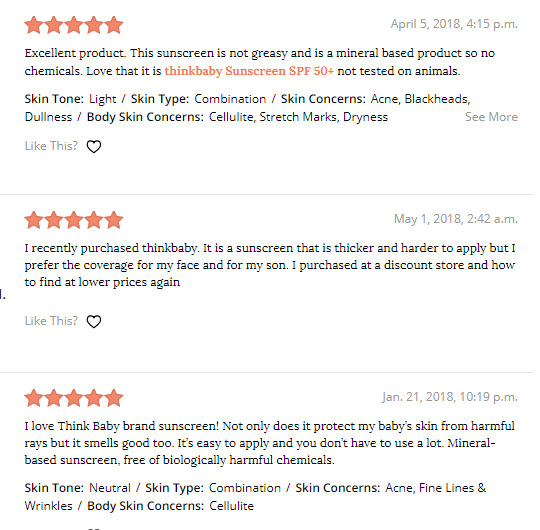 Made of natural Ingredients
Broad-spectrum UVA and UVB protection
SPF 50+
Recommended by dermatologist
Top rated by EWG
free of biologically harmful chemicals
No avobenzone, oxybenzone
Non-Nano formulations
A Member Of The Safe Cosmetics Campaign Compact Featured In &Nbsp
Mineral-based sunscreen
It doesn't leave the white film
Tear-free
Made in the USA
Amount 88ml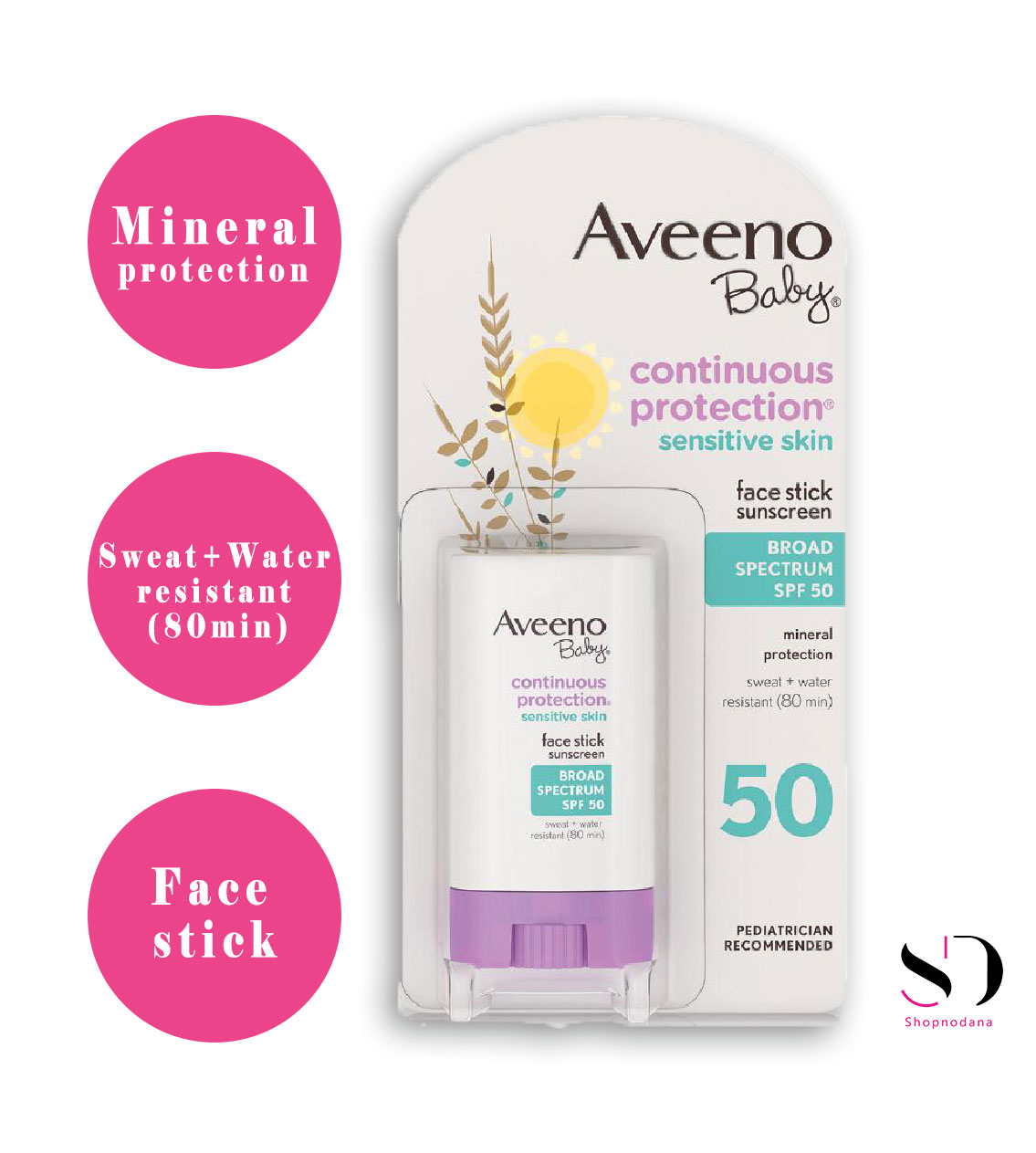 Aveeno baby continuous protection sensitive skin face stick is a perfect sunscreen for babies. You can consider it as the best sunscreen for toddlers. It's broad-spectrum SPF 50 so your baby will be protected from both UVA and UVB sun rays. Aveeno sunscreen is easy to use and in a size, that's easy to carry in a bag or purse for to go.
The good thing is that as it is in stick form so no chances to go in your baby's eyes. This product is specially designed for toddlers' sensitive and soft skin, water, and sweat resistance so can protect your baby for 80 minutes underwater.
This gentle sunscreen does leave the skin looking a little bit lighter so you can easily spot the area where it missed.  This Mineral sunscreen stick is made with naturally sourced mineral sunscreen ingredients of zinc oxide and titanium oxide.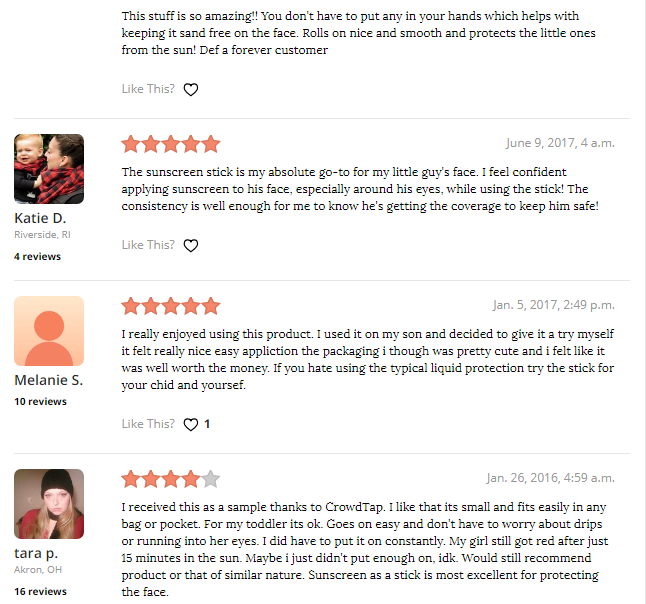 SPF 50
Broad Spectrum
water and sweat resistant for more than 80 minutes
Mineral-based formula
specially designed for babies
No-mess stick formula to create a barrier on top of the skin to scatter harmful UV rays
Non-irritating
Oil-free and fragrance-free
Active ingredients Zinc Oxide and Titanium oxide
tear-free formula
Amount: 14g
Made in: USA
Paraben and Phthalate free
Easy to carry
When it' time to choose the best sunscreen for toddlers, you can consider this product off Amazon. Badger's SPF30 Baby Sunscreen Cream contains non-nano Zinc Oxide to protect from both UVA & UVB rays. It is also water and sweat-resistant for at least 40 minutes so safe for the pool or beach. Its organic base is Sunflower oil, Beeswax, and vitamin E which also moisturize your baby's skin. It has a very distinctive scent
You have to knead the tube before each use. For full protection, apply 15 minutes before sun exposure, then rub in to reduce the whitening effect. Reapply it at least every 2 hours.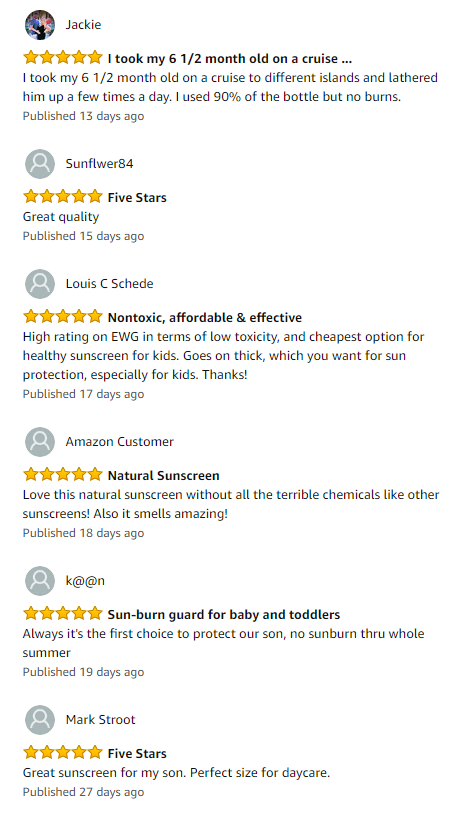 Broad-spectrum
SPF 30
water & sweat resistance for 40 minutes
Certified by the pediatricians and Dermatologist
Hypoallergenic
Certified Base of organic Sunflower oil, beeswax, and Vitamin E
Non-Nano
Safe for sensitive skin
No oxybenzone and Octinoxate
Amount: 87ml
Made in: USA
Biodegradable: safe for coral reefs and others
Works immediately upon application
Packaged in a BPA and Phthalate-free
Smells pretty good and very thick cream.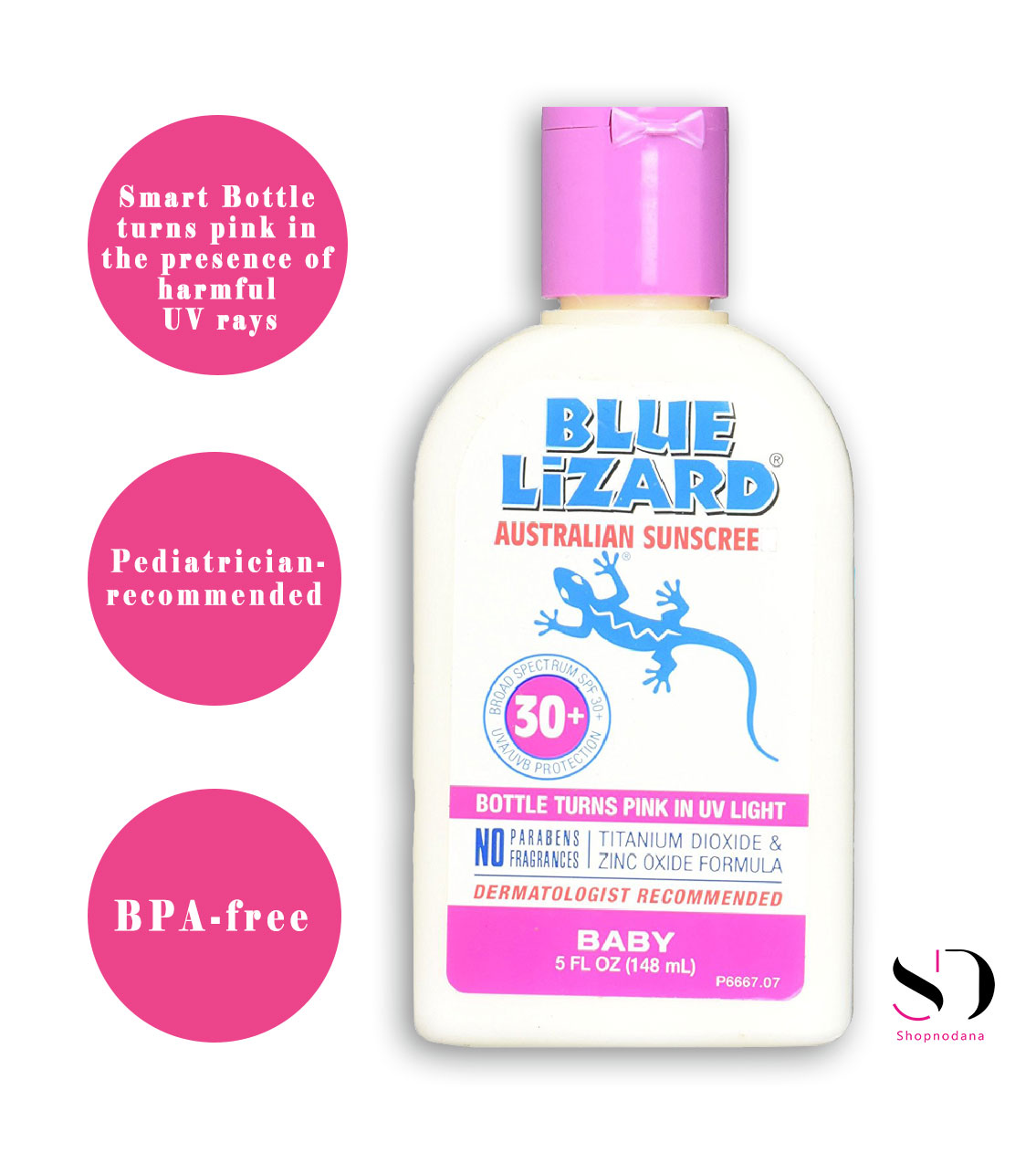 Blue Lizard Australian Sunscreen
is another sunscreen that you can add to the list of the best sunscreen for toddlers. The product is with SPF 30+ broad-spectrum UVA and UVB coverage. The great thing is that its smart bottle turns pink in the presence of harmful Ultraviolet Rays.
So you can take precautions because the deeper pink the bottle becomes when more UV rays are present. It helps to remind you to use sunscreen to protect your toddler from sunburn and sun damage to her tender skin.
This sunscreen is specially formulated for babies' soft and sensitive skin. It contains high-quality natural minerals with 10% Zinc Oxide and 5% Titanium Dioxide.
Broad Spectrum SPF 30+
Sun Protection with 10% Zinc Oxide and 5% Titanium Dioxide
Recommended by Dermatologists
Paraben-Free
No fragrance
Amount: 148 ml
Made in: USA
The bottle turns into pink in harmful UV sunlight
Formulated for babies soft and sensitive skin
No Harsh Chemicals
40 Minutes Water Resistant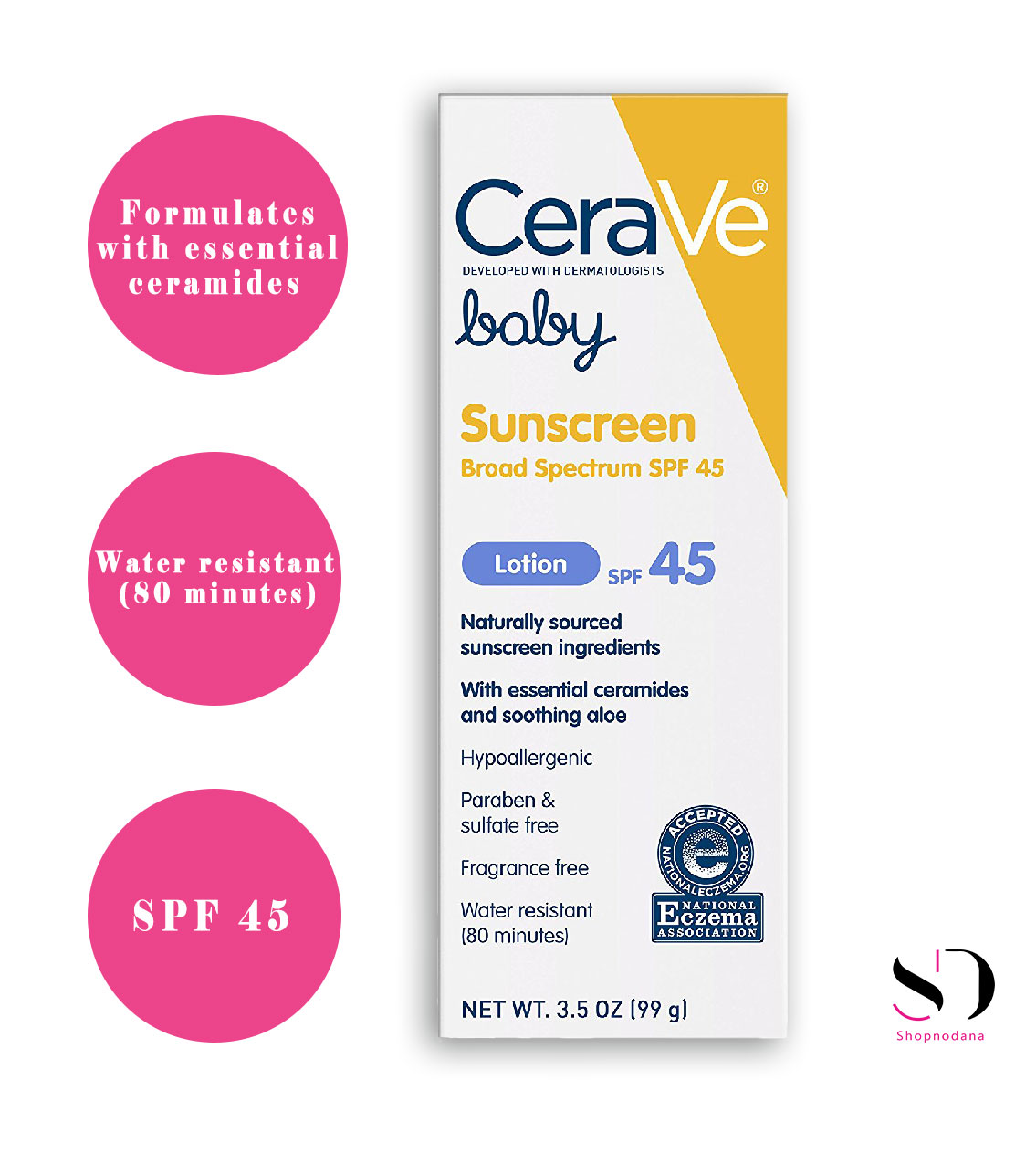 Here is another best sunscreen for toddlers. CeraVe Baby Sunscreen contains a broad spectrum with SPF 45 to protect your toddler's skin from sun damaging UVA and UVB rays. The product is formulated with essential ceramides (1,3,4-11) and is safe for sensitive skin. It can help repair and restore the protective skin barrier. This product is not greasy or too thick to rub on comfortably. It goes on smoothly, absorbs quickly, and has a lovely scent and good basic moisturizer. Easy to apply and doesn't leave any feeling like you have to wash your hands after.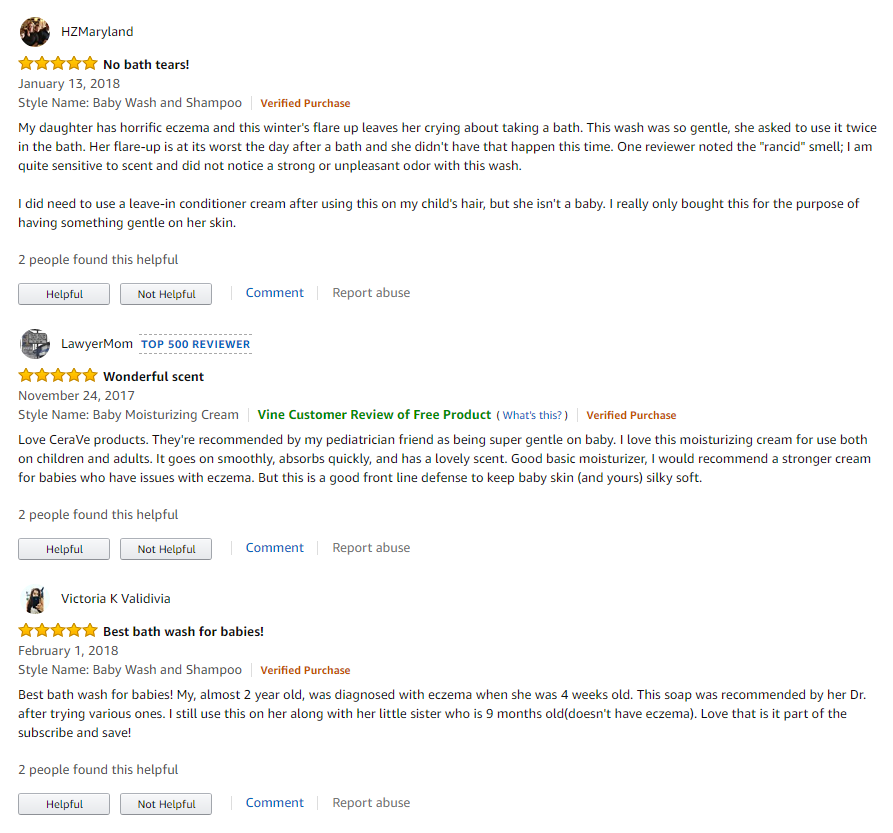 Broad Spectrum with SPF 45
recommended by the pediatricians and safe for extremely sensitive skin
does not contain any irritants
Active Ingredients: Titanium Dioxide, Zinc Oxide
Water resistant (80 minutes)
Hypoallergenic
No Fragrance
Paraben and Sulfate Free
Ideal for all skin types
Contains 100 percent naturally sourced active sunscreen ingredients
Not tested on animals
Tear-Free
NEA Seal of Acceptance
Babyganics is another one of the best sunscreen for toddlers. This product is exclusively 100% natural NeoNourish seed oil blended which support baby's skin. This product is mineral-based. It is like a paste and stays on top of the skin unless you run it in well.
Non- allergenic
Tear-free formula
SPF 50 formula provides broad spectrum UVA/UVB protection.
Water and Sweat resistant (80 minutes)
Pediatrician tested
PABA, phthalates, parabens, fragrances or nano-particles free
 It was Never tested on animals.
safe for sensitive skin
Now you know which sunscreen would be best for your toddler. If you're going to spending time outside with your baby—at the beach or other, you should bring a good umbrella to sit under, too.
If you have any questions about the sunscreens listed or anything to do with sun protection for your toddler please feel free to leave a comment below!
https://www.shopnodana.com/5-best-essential-oils-for-hair-growth-hair-oil-treatment/
https://www.shopnodana.com/20-foods-to-increase-breast-size-naturally/
You May Also Like