How to Make Hibiscus Oil with Dried Flowers for Hair
How to make hibiscus oil at home, know its purpose. What is meant by hibiscus oil? What are the benefits of this type of natural oil? How can you benefit from hibiscus oil? Important details will be presented in the following article.
Hibiscus is not only a beautiful flower but also a popular herb with extraordinary healing properties. If you are suffering from hair loss, hibiscus flowers and leaves will be the perfect remedy for you and stop hair loss.
For the body, however, below we will learn how to make homemade hibiscus oil and its health benefits.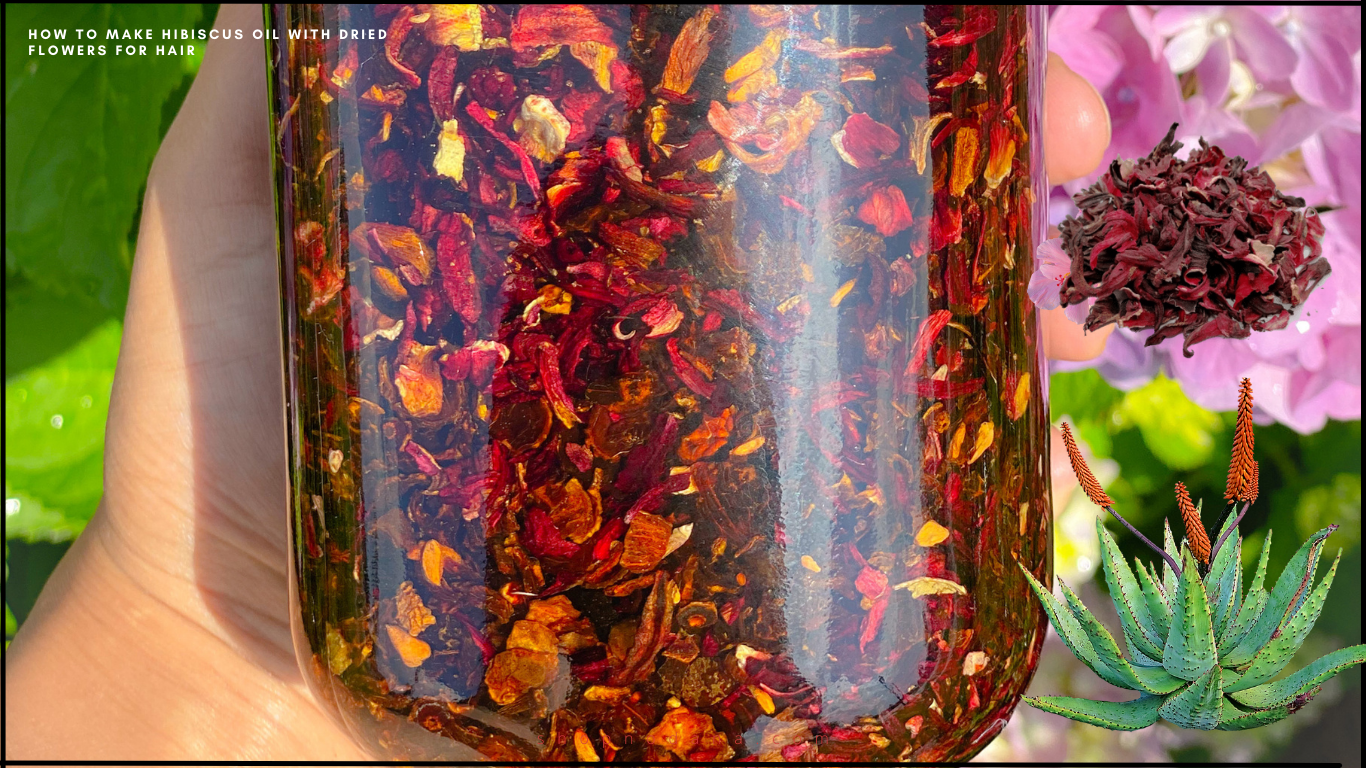 Benefits of hibiscus oil
According to a study published in the Journal of Ethnopharmacology, it is possible to completely heal dormant hair follicles and bald spots using hibiscus flowers.
In fact, the naturally occurring amino acids in hibiscus flowers provide hair with nutrients that help promote hair growth. These amino acids manufacture a structural protein named keratin which is the building block of hair.
Keratin binds hair, makes it less prone to breakage, enhances the overall thickness of hair strands, and makes hair more manageable. Moreover, hibiscus flowers and leaves contain a high amount of mucilage that acts as a natural conditioner.
Hibiscus oil can act as a deep conditioner that increases the shine and softness of the hair, as well as
Contribute to the reduction of dandruff.
Another benefit attributed to hibiscus oil is that it prevents premature aging of hair strands.
The product can be used not only as a conditioner but also for deep conditioning and before shampooing.
Pass it on the scalp hours before washing hair.
So, to help you rejuvenate the scalp and manage hair loss, we bring you this hibiscus oil recipe, which happens to be the ultimate hair growth oil, that you can make from the comfort of your own home.
How to Make Hibiscus Oil for Hair
Anyway, for those who want to try the product and see if it can contribute
For hair health, here are some recipes that teach you how to make hibiscus oil at home:
This homemade recipe helps to improve hair texture and quality over time, but you need to use it for a long time in order to achieve the best result.
This recipe needs to be applied
A handful of dried hibiscus flowers
500 ml of coconut oil.
How to prepare
To prepare the recipe, heat the coconut oil in a pan over low heat, and after heating it for 5 minutes, add a number of fresh hibiscus flowers to it.
Start by stirring the coconut oil and hibiscus together until the color of the oil changes to dark yellow or red. Remove from heat add a few extra hibiscus flowers and leave the mixture for 5 hours. Strain the oil into a glass bowl so it is ready for use.
Recipe 2- hibiscus, coconut oil, and castor oil recipe
Ingredients
100 grams of dried hibiscus flower
 120 ml of castor oil
 50 ml coconut oil
How to prepare
Put all ingredients together in a small glass bowl, cover the bowl tightly and shake the bottle to blend
well, leave the mixture in storage for a week before using hibiscus oil.
Hibiscus oil cannot be ingested, however, it can be applied to the hair.
Recipe 3- hibiscus with olive oil, sunflower oil, or almond oil
Ingredients
1 handful of dried hibiscus flowers
100 ml of carrier oil such as almond oil, sunflower oil, or olive oil
Virgin olives.
How to prepare
Knead the dried hibiscus flowers with your hands, put the hibiscus into a dark-colored bottle, then pour the oil you choose.
Cover the bottle and let the mixture rest for at least three days before you start using obtained oil.
Recipe 4- aloe Vera, hibiscus, and neem oil recipe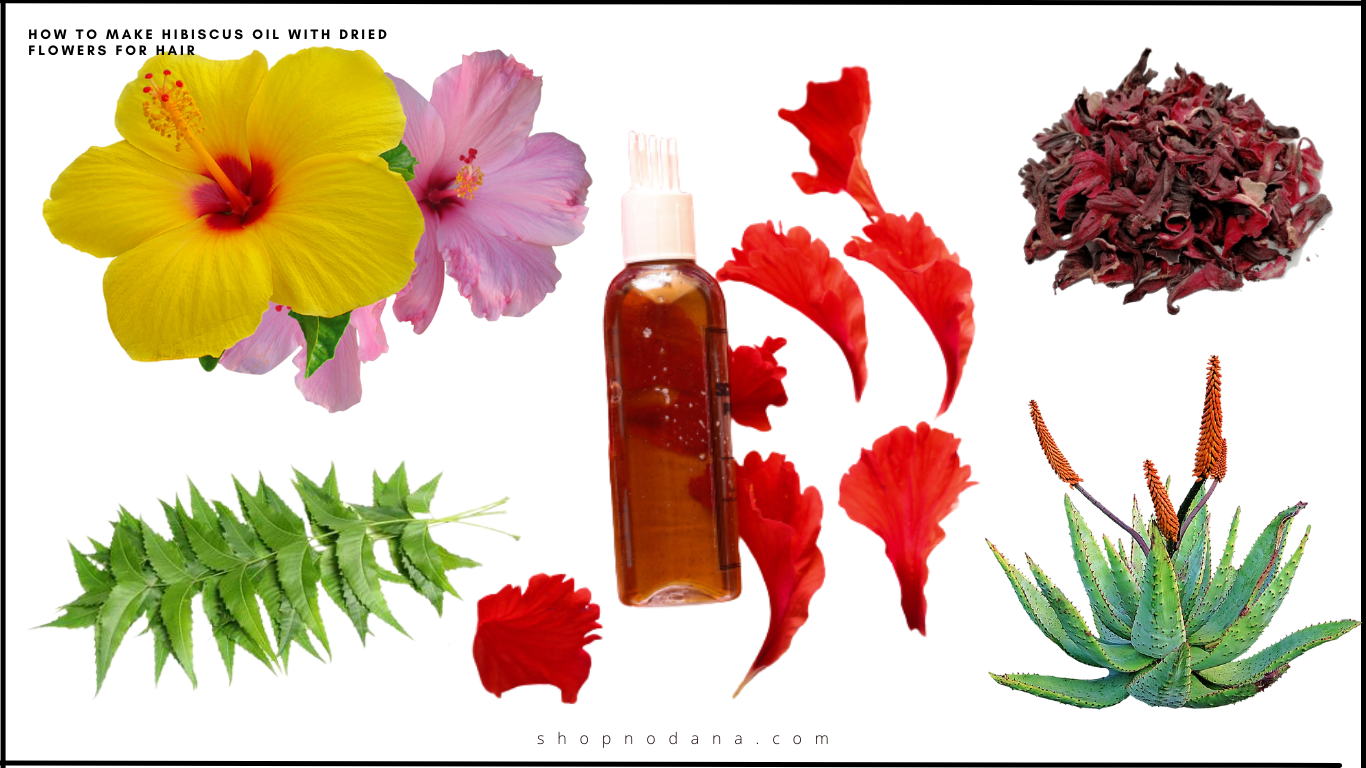 Neem is known to be effective in treating infections of the body and skin thanks to its antibacterial action, making it ideal for treating hair and scalp infections.
This recipe is the best treatment for itchy scalp and bad smell on the scalp
To prepare the recipe, use
A handful of sun-dried hibiscus flowers
3 tablespoons of fresh aloe vera gel
A few fresh neem leaves,
500 ml of coconut oil,
2 tablespoons of castor oil
2 teaspoons of eucalyptus oil
How to prepare
Start preparing the recipe in a blender, pour in the aloe vera gel and 10 dried hibiscus flowers, and mix them together until they turn into a paste.
On medium heat, pour the hibiscus paste with the aloe vera and cook it on medium heat until the size of the mixture decreases
Add the coconut oil and then the castor oil one by one.
Leave the mixture on the fire for one to two hours until all the moisture in the dough evaporates and only the oil remains.
After the oil is ready, add the remaining hibiscus flowers, stir for a while chop the neem leaves into small pieces and add them to the oil.
Leave the mixture for two hours before filling it into a clean glass container.
The Final Thought
It is advised to apply this oil to your hair at least once a week, and leave it in your hair overnight. For a complete spa atmosphere at home, you can steam your hair with a hot towel before applying the oil. It will open the pores on your scalp as well as the hair cuticle. This will enable the hibiscus hair oil to be better absorbed
Moreover, this oil recipe also provides nourishing carrier oils like coconut oil, olive oil, and almond oil. All three have a deep moisturizing effect on the hair. Thus, this DIY oil will go a long way in ensuring that you can stop hair loss while also moisturizing your hair.
So, prepare hibiscus oil for strong hair!
Also, read
You May Also Like