The delicate oatmeal is one of the options common healthy breakfast, as it extends the body and health with many health benefits. Oatmeal Face Mask is a blessing for the skin because it contains many of the compounds and important properties of the skin such as antioxidant and anti-inflammatory properties that work to relieve itching skin irritation. It is great for acne-prone skin. In this article, we will show you the benefits of using Oatmeal in different skin masks.
The benefits of oatmeal are numerous, as oatmeal provides many benefits, such as preventing acne and improving skin texture, and it also works as a natural skin cleanser. Below are some of the benefits of using oatmeal as an essential ingredient in many skin masks.
Homemade Oatmeal Face Mask
Face masks are one of our favorite skincare practices. We are especially fond of professional facial in the parlor, but they are so expensive that it can be difficult to handle more than 1 or 2 annually. In between these trips to the spa, we rely on face masks purchased from the store like the trendy Korean face mask or the charcoal face mask that has made a lot of funny (and painful to watch) videos on social media these days. Yes, you want to be careful when using some exfoliation masks so as not to cause more harm than good, but all of these masks offer some great benefits.
A good and effective Face mask can:
Help you relax in a short time
Detox your skin
Refines skin pores and prevent acne
Increases hydration
Stimulate blood circulation on the face
Diminishes fine lines
Gives an even skin tone
Encourage collagen production
Tighten your skin
Moisturize your skin
You get firmer skin
Help the rest of your skincare routine work better
One of the best ingredients to be included in a DIY face mask is oatmeal. let's see what we can whip up in the kitchen.
Benefits of Oatmeal Face Mask on the skin- 7 great benefits
1. Oatmeal Face Mask for acne:
Oatmeal helps absorb excess oil from the skin and helps treat and prevent acne, and you can use it to treat and prevent acne as follows:
Boil half a cup of oatmeal in the third cup of water and allow it to cool.
Apply the paste on the affected areas on the face and leave for 20 minutes, then rinse with warm water.
You can also add tomatoes, egg whites or onions to this mask. This mask cleanses the skin.
Oatmeal also helps in treating acne, and oatmeal scrub work to remove dead skin cells and soften the skin, and reduces the oat emery from spots on the skin. To make an oatmeal scrub do the following:
Mix 1 tablespoon of finely ground oatmeal with fine brown sugar, raw honey, jojoba oil and a few drops of lavender oil or geranium.
Put a small amount of this scrub on a wet face with massages in small circular motions,
leave it for 10 minutes and then rinse with warm water.
You can use oatmeal soap as it works as a natural scrub and absorbs excess oils.
Oatmeal contains zinc, which reduces inflammation and kills acne-causing bacteria.
However, a dermatologist should be consulted before using oatmeal to treat acne, as incorrect and inappropriate use can exacerbate acne.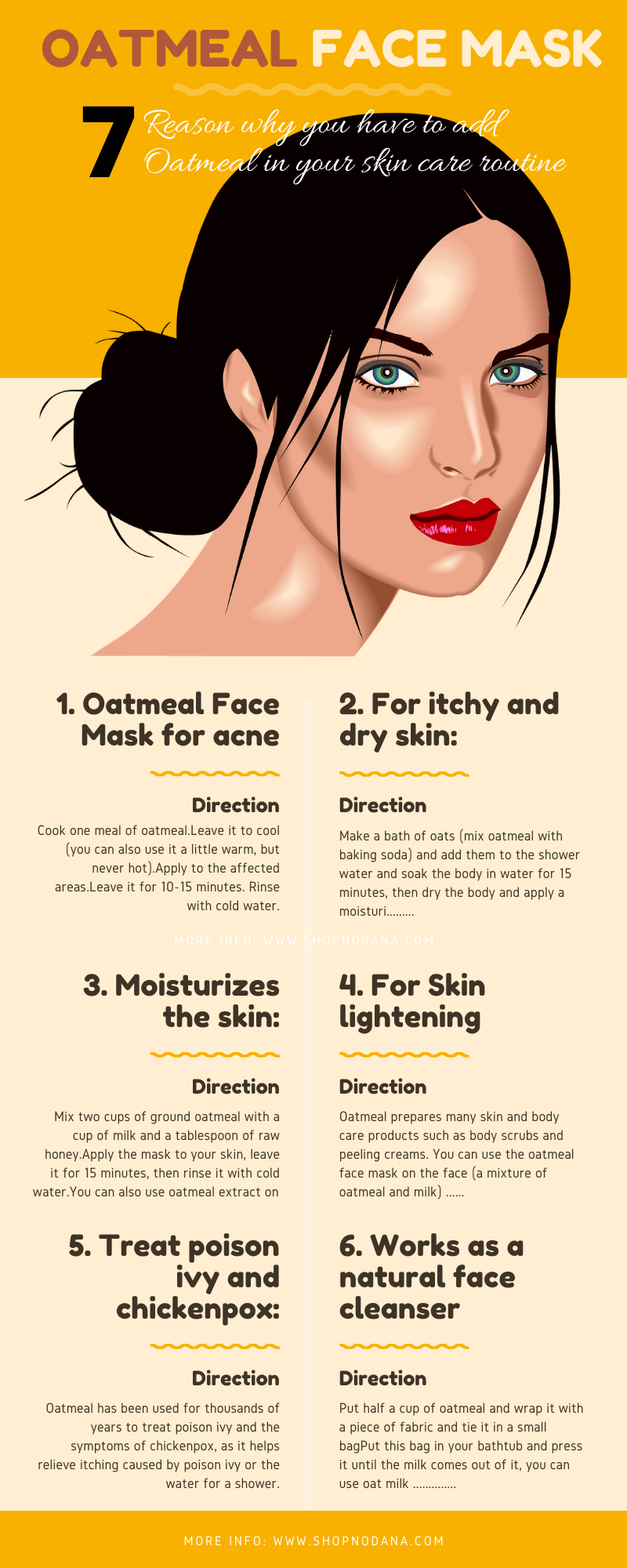 2. Oatmeal Face Mask for itchy and dry skin:
Oatmeal contains natural anti-oxidant and anti-inflammatory properties that help treat itching caused by dryness and irritation of the skin. You can use oatmeal to relieve itching and dry skin as follows:
Make a bath of oats (mix oatmeal with baking soda) and add them to the shower water and soak the body in water for 15 minutes, then dry the body and apply a moisturizing cream.
Or mix the oatmeal powder with hot water to make a paste, apply the mixture on the skin for 15 minutes, then rinse it with plain water.
You can also apply oatmeal milk directly to the affected areas of the skin.
3. Oatmeal Face Mask to moisturize the skin:
Oatmeal helps remove dead skin cells and acts as a natural moisturizer for the skin. It also contains beta-glucan, a skin moisturizer, penetrates deeply into the skin, helping to retain moisture within the skin. (1)
Mix two cups of ground oatmeal with a cup of milk and a tablespoon of raw honey.
Apply the mask to your skin, leave it for 15 minutes, then rinse it with cold water.
You can also use oatmeal extract on the skin.
4. Oatmeal Face Mask for Skin lightening:
Oatmeal prepares many skin and body care products such as body scrubs and peeling creams. You can use the oatmeal face mask on the face (a mixture of oatmeal and milk) every morning to lighten skin tone and eliminate stains.
5. The oatmeal face mask helps to treat poison ivy and chickenpox:
Oatmeal has been used for thousands of years to treat poison ivy and the symptoms of chickenpox, as it helps relieve itching caused by poison ivy or chickenpox. You can use oatmeal in the following way:
Pour the oatmeal into the cheesecloth, tie the cheesecloth around the bathtub faucet and periodically press the water for a shower.
6. Oatmeal face mask works as a natural face cleanser:
Oatmeal contains a compound called saponins that acts as a natural skin cleanser as it helps get rid of impurities and excess oils that can clog the pores of the skin without causing irritation or dry skin.
You can prepare oatmeal milk by soaking oatmeal in water. Oatmeal works as a natural antiseptic and tonic for the skin and skin. Apply oatmeal milk to your face with a cotton swab after washing the face thoroughly with water.
You can also use the oat bran bath to clean the skin.
Put half a cup of oatmeal wrap it with a piece of fabric and tie it in a small bag
Put this bag in your bathtub and press it until the milk comes out of it, you can use oat milk on the face and body instead of soap to make Mild skin exfoliation.
7. Protection of the skin:
The proteins found in oatmeal maintain the skin's natural barrier, they also protect the skin from harsh pollutants and chemicals and the fats and grease that are found in oatmeal help protect the skin from harmful UV rays.
Other nutrients in oats and their benefits are:
Vitamin E, a powerful antioxidant that readily absorbs into the skin and reduces skin damage caused by free radical formation due to harmful UV rays. Vitamin E is an excellent moisturizer and reduces the dryness of your skin.
Beta-glucan, a polysaccharide antioxidant that reduces inflammation, heals wounds, soothes sensitive skin, reduces skin irritation and moisturizes gently.
Niacin (Vitamin B3), an anti-inflammatory compound that has moisturizing and whitening action.
Zinc, a powerful antioxidant, helps wound healing, keeps skin cell walls stable and protects the skin from UV damage.
Copper, an antioxidant that works in conjunction with zinc to increase the production of elastin required for skin elasticity.
Magnesium, which helps prevent signs of aging in your skin.
DIY Oatmeal Face Mask
1. Instant oatmeal mask for acne
You can actually use instant oatmeal for this mask if you like it – just make sure it doesn't have any other flavors or additives. (If you're not sure, get regular oats). Cooked oatmeal is good for treating infections and red skin. You can also use colloidal oatmeal (oatmeal to flour). Oatmeal flakes are the best for homemade skin exfoliation.
Directions:
Cook one meal of oatmeal.
Leave it to cool (you can also use it a little warm, but never hot).
Apply to the affected areas.
Leave it for 10-15 minutes. Rinse with cold water.
2. Oatmeal and honey facial mask
Directions:
Cook one meal of oatmeal. Add two tablespoons of honey to the oatmeal.
Allow the oatmeal to cool and then place it on top.
Leave on for 10-15 minutes, then rinse with lukewarm water.
3. Apple and oatmeal face mask – for all skin types
Ingredients
2 tablespoons of oatmeal
1 tablespoon honey
2 tablespoons of apples
Rosewater
Directions:
Mix two tablespoons of apples (you can also cut, chop and chop a medium-sized apple paste in a food processor), one tablespoon honey and two minutes of oatmeal together with a few drops of rose water.
Leave it for 10-15 minutes. Rinse with lukewarm water.
4. Instant oatmeal and turmeric face mask
You can also use instant oatmeal to make a face mask. Ensure that it does not contain any other flavors or additives. Turmeric is an antiseptic and fights acne-causing bacteria. It also softens the skin.
Ingredients
One meal of instant oatmeal
Water, as required
Pinch of turmeric
Directions
Cook an instant oatmeal with enough water to make a thick dough.
Just add a pinch of turmeric and mix well. Too much turmeric will color your skin tone pale (if this happens, it will go away after two piles of washing).
How to apply
Wash the face with warm water and mild face wash.
Dry the skin with a soft towel and apply the cooked (but not hot) oatmeal to the face and neck.
Leave it for 15 minutes, then wash it with warm water. Leave it to dry.
5. Yogurt and oatmeal face mask
Oatmeal and yogurt are suitable for all skin types. This face mask will deeply refresh and cleanse your pores.
Mix 1 tablespoon of yogurt with 1 tablespoon of oatmeal.
Add a few drops of honey in the mixer and mix it.
Apply it to your face for 15 minutes, and rinse it off with warm water.
This mask is best for acne-prone skin. Yogurt has bleaching effects and its high zinc content helps reduce stains and scars. This mask is easy to make and does not dry out your skin – in fact, your skin will feel soft, smooth and supple due to lactic acid.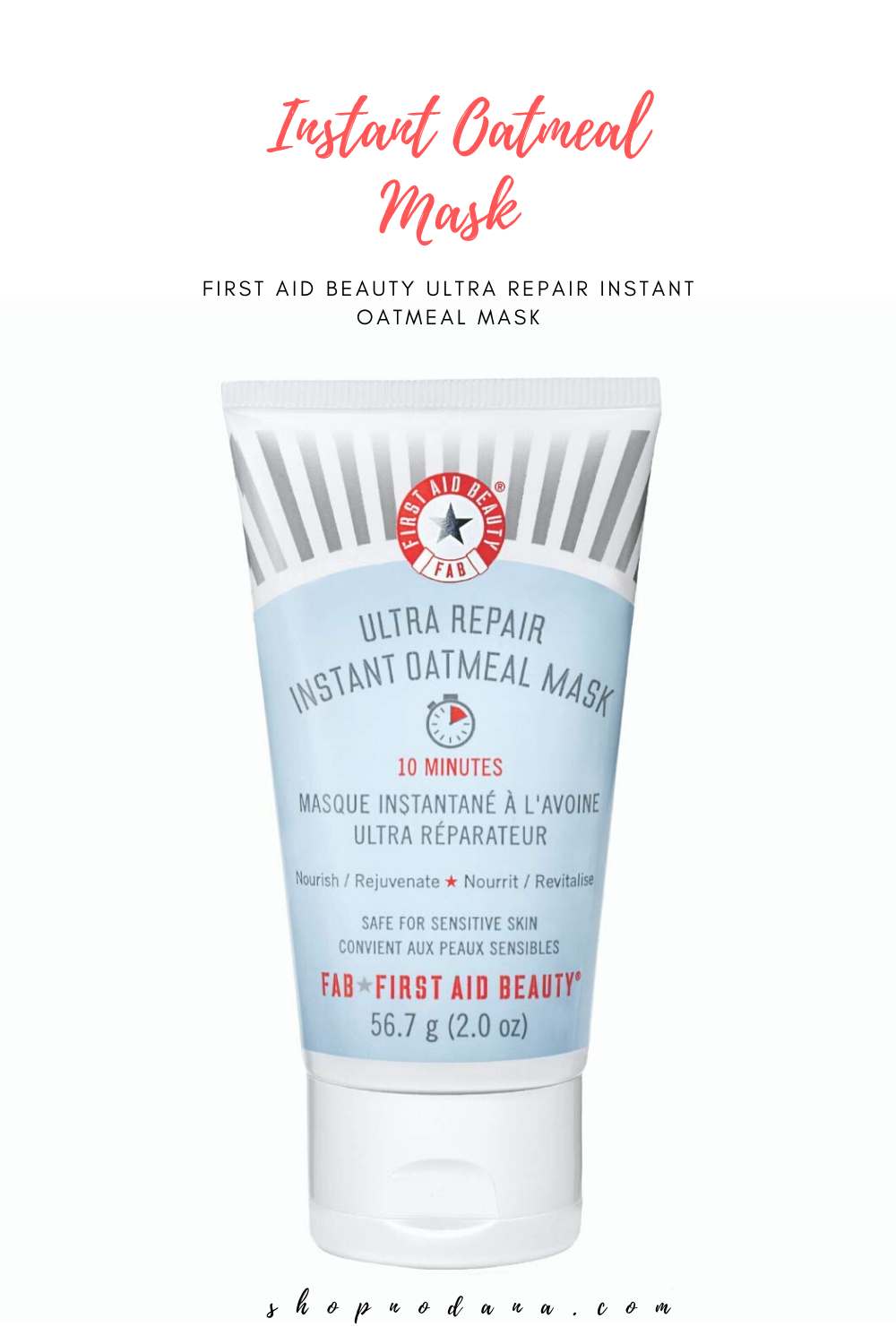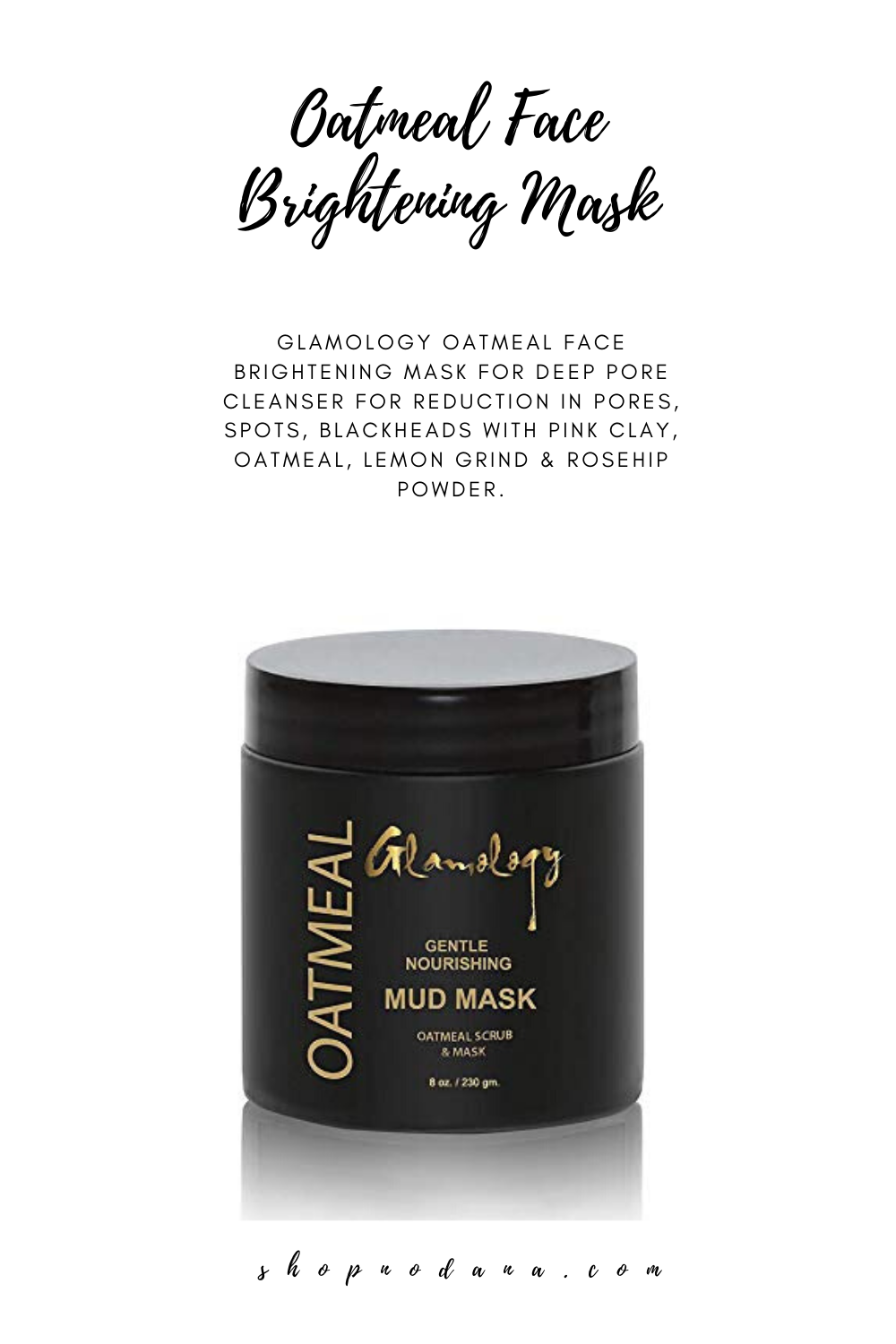 Warning:
Do not use any ingredients you are allergic to. Test the masks on the inside of your elbow to ensure that the ingredients do not cause irritation or reaction. If you have any severe skin problems, consult a dermatologist before trying any natural skincare prescriptions.
The bottom line:
An oatmeal facial mask is very beneficial for the skin. Due to a large number of nutrients it contains. (2) Oats can help rebuild damaged skin, heal wounds, protect skin from UV rays and environmental damage, and moisturize and cleanse the skin. Regular use of oatmeal facial masks can solve skin problems such as dehydration, acne, atopic dermatitis, and excessive oils. Oatmeal face masks are safe with a very low incidence of adverse reactions.
You May Also Like