Healthy Food And Beverage Trend For 2023-2024
What is the healthy Food and Beverage trend for 2023-2024? There may still be a few months left on the calendar, but Whole Foods Market is already looking forward to 2023.
Each year, the Company's Trends Council, which includes more than 50 experts, local food hunters, and global buyers, releases their most anticipated food next year's trends. Last year's trend predictions included things like hibiscus, mocktail, and turmeric.
Consumers' efforts to balance health and wellness with their desire to seek comfort and pleasure from food and beverages will cause several trends to emerge on restaurant and grocery shelves in 2023, according to expert forecasts for the coming year.
Food-loving people are also aiming for drastic tastes and foods that ensure the most nutritious at the same time. The healthy Food and Beverage trend for 2023 will mainly focus on variety among the ingredients.
Healthy Food And Beverage Trend For 2023
Here are five of the top food and beverage trends for 2023, including which beverage category will continue to gain popularity and which social media platform experts believe will further influence where to eat and what consumers want.
1. The growing influence of artificial intelligence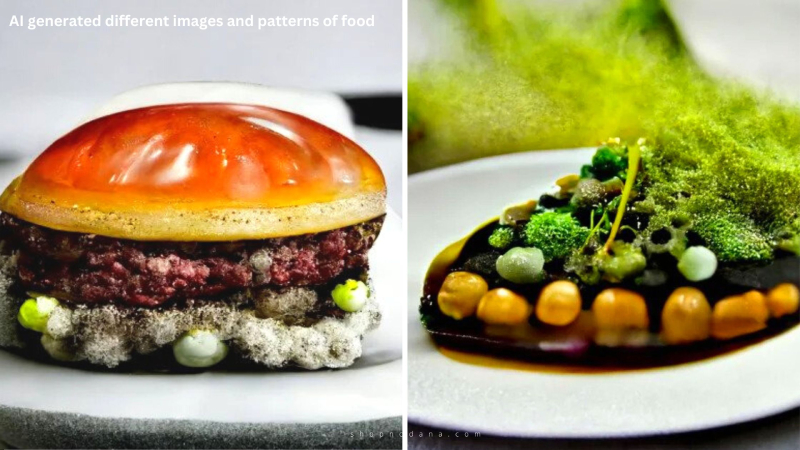 Beyond bot servers or chefs, research the growing impact of AI on food intake.
In terms of presentation, there is more interest in how the AI image generator creates different images and patterns of food. So, AI-generated food image is the most remarkable food and beverage trend for 2023.
The result is something between fantasy and reality (1)
For operations, machine learning AI systems will act more as restaurant managers.
They'll perform tasks like determining the amount of produce to chop based on the day's weather, making phone calls, and turning the dishwasher into a vegetable prep station.
2. Fermented and pickled foods and drinks
The tangy, funky flavors of fermented and pickled foods and beverages have gained popularity over the past several years, and many trend forecasters predict that they are among the top food and beverage trend for 2023.
Searches for pickled-flavored foods on Yelp increased 55% this year, according to the review site trend forecast for 2023.
"The difference now lies in the flavor base, the ingredients, the method, and the focus of the chefs and even the bartenders who apply it. A shared appreciation for brewing spreads across cultures, cuisines, and service classes," AF & Co and Carbonate wrote in their 2023 trend report.
Note the report, which credits Noma's new Nordic cuisine—specifically the restaurant's use of fermented rice called koji—spurred the popularity of fermented foods on modern menus, to the mainstream at restaurants including Aegean Koji Kitchen in San Francisco and The Charter Oak in St. Louis. Helena, Calif., which serves veggies with a fermented soy dip.
Technomic also included pickled and fermented foods and beverages in its forecast trend for 2023, and the lists are expected to begin including the names of specific preservation methods, such as Lacto-fermentation, now that consumers are more familiar with the processes.
"Expect pickling to extend to everything from proteins and stir-fries to herbs and nuts, while the pickled ingredients top unexpected dishes," says the report. "At the bar, you can sip sour cocktails that contain fermented, gut-healthy ingredients, like kombucha, miso, and sake."
Fermented beverages are also on the radar of Total Food Service, which has ranked kefir as one of the drinks to watch in the coming years.
3: The waning popularity of plant-based foods
The market has spoken. With supermarket sales of fake meat down 10% by volume in the past year, and Beyond Meat's stock price plummeting from $108 to nearly $12, people are starting to cool off to plant-based meats or foods.
Among the reasons are the price, the taste, the growing skepticism about the purported health benefits, and, most importantly, the complex labeling—which indicates that these are highly processed foods.
But don't expect the green trend to end. Plant-based chains are still taking off, drawing long lines, and dozens of alternative protein manufacturers are getting billions of dollars in financing.
"Hybrid meats," which combine cultured meat with plant-based fake meat, could be a game-changer. With an "aura of health" and a taste that's closest to the real thing, these hybrid proteins may help revive people's interest in plant-based foods.
4. Low-alcoholic and non-alcoholic drinks
Kefir and kombucha can be used in non-alcoholic beverages to achieve complex flavor profiles, a trend that has been growing for several years and will continue through 2023.
Searches for mocktails are up 59% this year, according to Yelp, which also included "dirty sodas." enriched with cream and non-alcoholic micheladas called michelaguas in the 2023 Food and Beverage Trends.
As more people explore their relationship with alcohol and its effects on their physical and mental health, demand for sophisticated, zero-scratch beverages is growing in retail and across the restaurant sectors – no liquor license required.
"Alcohol-free products can be sold anywhere without restriction, including online through major retailers such as Amazon. By contrast, the sale of traditional spirits remains largely limited at major online retailers," According to Adam Rogers, director of research for North America at alcoholic beverage research firm IWSR.
Bars, restaurants, and retailers will have more alcohol-free options to stock next year. "The broad range of products that replicate actual spirits gives bartenders something exciting to work with when creating delicious non-alcoholic beverages with a variety of flavors," AF&Co and Carbonate wrote in their 2023 food and beverage trend report.
The growing booze-free movement is also inspiring bartenders to whip up their own branded drinks and ingredients. Carl Franz Williams, the owner of 67 Orange Street in New York City, created Vinci Brew Ginger Beer from Uncle Withley that he uses as an ingredient in non-alcoholic cocktails, Delish reports in its food and beverage trend for 2023 forecast.
5. Throwback favorites
Another trend growing in Food & Beverage Trend For 2023 is the nostalgic appeal of revived dishes and drinks from the past.
Bacardi included classic and nostalgic cocktails in its 2023 Trends report, citing the Bacardi Consumer Survey 2022, which found that 58% of bartenders take a great interest in classic cocktails with a twist.
Cocktails inspired by childhood flavors also have a nostalgic appeal, AF & Co and Carbonate reports, which mentions a cocktail from Chicago's Summer House that evokes milk, cereal, and a root beer pinned on the menu at Milady's in New York City.
Drinks wouldn't be the only category inspired by the old days.
Dessert menus will deliver a taste of nostalgia with revamped classics like moon pies and s'mores, according to the  National Restaurant Association's 2023 What's Hot Culinary Forecast. An update on old-fashioned baked Alaska is AF & Co and Carbonate's dessert pick for 2023.
Tastewise also included nostalgic desserts in its 2023 forecast, and the data platform's report urges culinary professionals to broaden their understanding of nostalgia to create blends that appeal to a broader audience.
Consumers' desire to fit favorite foods from the past into their current diets is to "create the ultimate blend of indulgences with better ingredients and special diets in mind," according to Whole Foods Markets' 2023 Trend Forecast, which mentions macaroni and cheese bites of pizza as some of the things Favorites that get a healthy makeover.
6. Experimental add-ons
Personal dining made a big comeback this year as consumers returned to restaurants in search of experiences they missed earlier in the pandemic.
To compete for customers' dollars in this crowded market—especially as inflation forces many people to be more selective about their spending—restaurants must offer memorable experiences in addition to delicious food.
Experiences that showcase local culture and community will be the No. 1 food and beverage trend for 2023, according to the National Restaurant Association's What's Hot report.
Diners are looking for unique experiences that "offer views, activities, or entertainment, all while enjoying a meal," according to Yelp, which has seen searches for dinner theaters and underwater restaurants increase 109% and 263%, respectively, this year.
Food halls can capitalize on this appetite for experiences by featuring live bands, hosting movie nights, or enhancing retail offerings with specialty vendors such as seafood stands and bakeries, Baum + Whiteman consultants said in their 2023 Corporate Trends report.
7. Receipt upon delivery
Expect more people to pick up their food as concerns about inflation and delivery fees continue to rise.
For the payment factor, the delivery app experience is wonky for some. By choosing who delivers and which customers they want to prioritize based on certain apps' references to generous and poor tippers, some may even find that their orders are completely ignored.
For checkouts, fast food casino restaurants and chains are improving their efficiency by building more pickup lanes and pickup-only stores, so customers save time and money by up to 30-50%.
Also, let's not forget about the high prices, especially when the delivery fee matches the food. As more companies put this pricing dynamically to the test, don't be surprised by the consumer backlash and the faster shift to transit lanes.
8. TikTok tastemakers
With so many foods and beverage options to choose from, consumers are increasingly turning to social media to discover the latest and best – and decide which ones are worth their time.
TikTok rose to the top of the social media food chain this year, and many experts predict the platform will continue to dominate in 2023.
TikTok has more than 65 million monthly active users in the US, and 36% of TikTok users have visited or ordered food from a restaurant after watching a TikTok video about the restaurant, according to a 2021 survey by marketing agency MGH.
"Across industries and identities, TikTok is expected to expand its influence as another essential app for people around the world," according to Delish, who predicts food TikToks will be one of the biggest food and beverage trends for 2023.
The Final Thought
Trends are easy to follow, but you also have to keep a lot in mind. Those above are the expert's predictions, not a "must follow". They are super beneficial when you modify your diet with them.
Due to different circumstances and cultural evaluations, some may seem odd to add up when others are similar to what we have seen in this year's 22.
Always ask the experts while going for a new food habit focusing more on your regional ingredients, weather, profession, age, and effects on health.
Let us know how are you preparing for the coming year in the comments below.
You May Also Like