Mango Biryani Recipe Which is Very Healthy
Biryani is a popular dish made with rice and meat. But Biriani is too rich in calories. Fatty red meat this summer is very harmful. So what about Biriyani? There are now raw green mangoes in the market. You can find different types of mangoes. Then let us make mango Biryani. Hope this will taste good this summer.
Mango Biryani recipe which is very healthy food.
Ingredients:
Cut into small pieces of raw mango – 200 grams,
Ripe mango-300 grams cut into small pieces,
 2 cups of basmati rice (should be kept soaked in water for 30 minutes),
2 tablespoons of ghee,
1 pinch saffron soaked in light hot water.
Gross mint leaves (20/23)

The salt

is according to taste.
Green

chili

 4/5
Chopped

coriander

 leaves (as desired)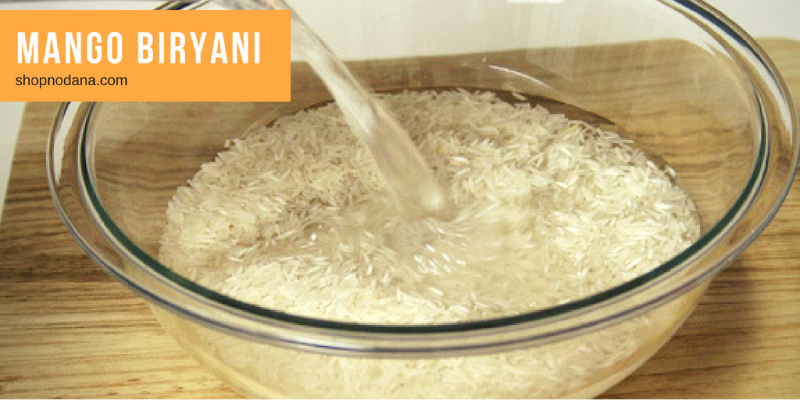 What is Needed for the Preparation of the Gravy of Mango Biryani:
Poppy seeds paste 4 tablespoons,
2 tablespoons of sesame seeds,
1 teaspoon of anise,
1 teaspoon of whole cumin.
1 tablespoon of whole coriander,
Kazu / Pista nut 10/12
How to Cook Mango Biriyani?
First, mix all the spices that are kept for gravy.
Take a brass or steel pot. Heat the pan and add the ghee.
Fry with soaked rice for 2-3 minutes. Now mix them with raw mango slowly.
If you have cooked for a few minutes, then add 3 cups of water. Let the rice be half full with the lid in the mouth of the dish.
Once done, mix the gravy mixed with sweet mango in all spices.
Turn the whole mixture into rice.
Mix well and cook a little.
Keep aside the saffron, chilies, and mint leaves.
You have to stir a little bit. Please keep in mind that the lid doesn't move.
At this time take half a cup of water in a bowl.
Apply a little flour and apply it on the edges of the container and put the lid on top.
Absolutely reduce ignition. 5-10 minutes to wait and open the lid.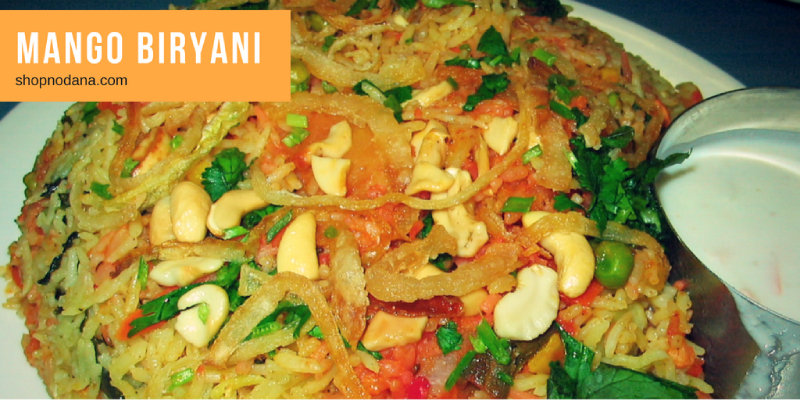 Serve Mango Biryani, which is a very healthy food with coriander leaves, lemon slices, onion barista/fried onions, and Cachu nuts.
It will be great fun if you serve Biryani with Homemade Borrhani made with yogurt.
You May Also Like