How to Make Edible Sand Cake
Sand cakes are very easy to make. You can bake it in the oven or make it simply on a frying pan on your stove. It took just a few minutes. . In this recipe I have used semolina for creating the sand effect on the cake. You can use almond flour or crushed biscuits instead of semolina.
Sand cakes have been in England for a very long time but they don't seem to be showing up very often these days unless I miss them somehow. In fact, it appears that different types of sand cakes appear more frequently in other parts of the world such as Australia.
Honestly don't have sand in cakes. It's made largely of potato flour or cornmeal (or cornstarch as it's known in some parts of the world), which gives it a light, crumbly texture—a "sandy" texture, I think. It's a shame they aren't better known because they are beautifully light, very easy to make, and taste so much better than sand.
In this article, you will know about an easy sand cake made with semolina.
How to Make Edible Sand Cake with semolina and flour
Ingredients
1 cup (130 g) all-purpose flour.
1 ½ cup (170 g) semolina.
¾ cup (150 g) yogurt.
¾ cup (180 ml) oil.
¾ cup (150 g) sugar.
½ cup (120 ml) sweetened condensed milk.
1 tablespoon (10 g) baking powder.
1 tablespoon (15 g) vinegar.
1 teaspoon (5 g) bicarbonate of soda.
1 teaspoon (5 ml) liquid vanilla.
pinch of salt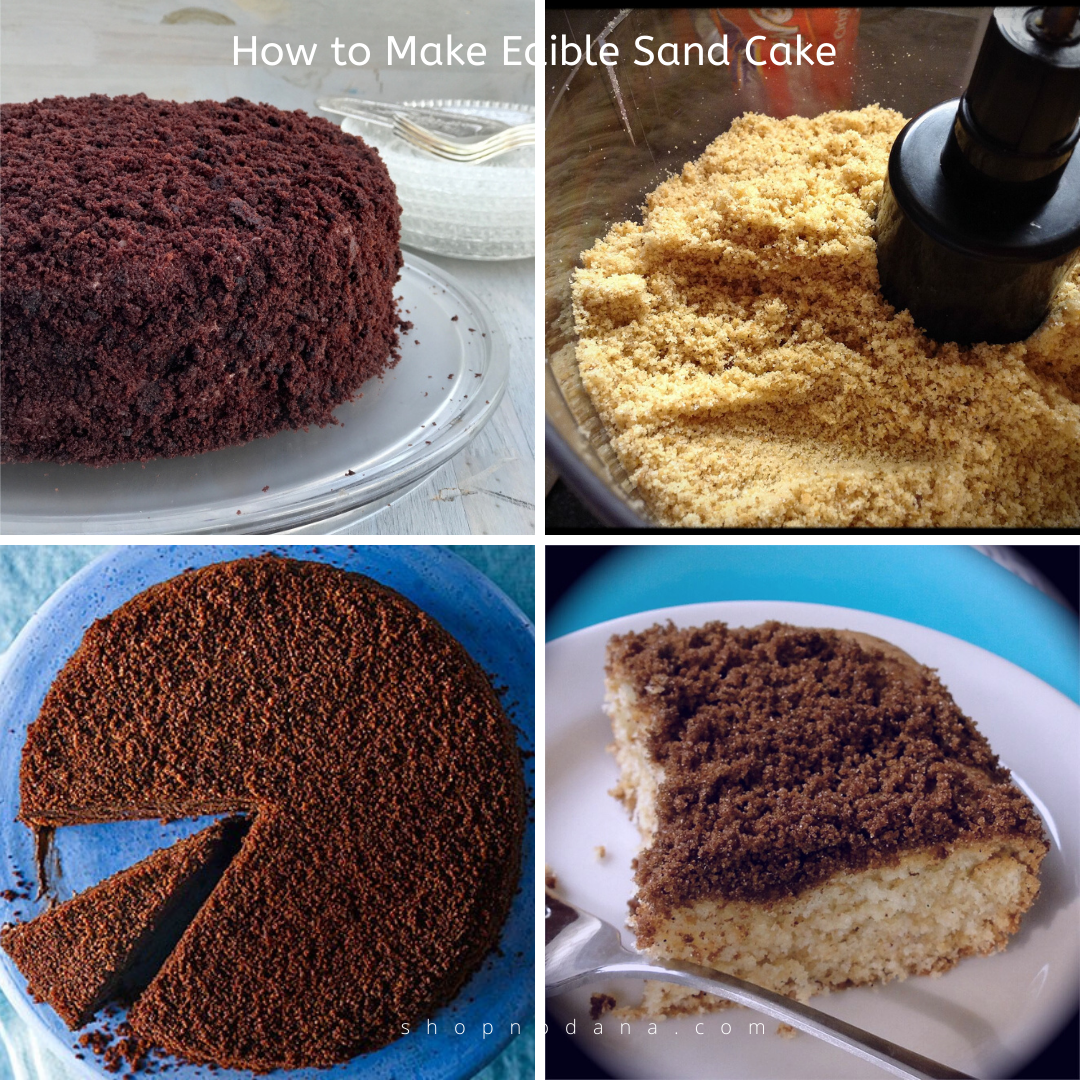 How to prepare sand cake
1. Heat the oven at 180°C.
2. Put a cup of semolina in a large bowl, then add the flour, salt, baking powder, and mix well.
3. Put the oil, sugar, yogurt, and vanilla in another bowl, and beat with an electric mixer until the ingredients are combined.
4. Add the flour mixture and mix well, until the ingredients are combined.
5. Put the bicarbonate of soda in a small bowl, then add the vinegar to immediately stir the mixture.
6. Add vinegar to the cake mixture and mix well.
7. Pour the dough into a tray greased with a little oil, then put the tray in the oven for 45 to 50 minutes until the cake is done.
8. Heat a non-stick frying pan over medium heat, then add the rest of the semolina and stir for two minutes until toasted.
9. Take the cake out of the oven, let it cool down a bit, then invert it onto a serving plate.
10. Grease the top and sides with condensed milk, then spread the toasted semolina to cover the cake and serve it with hot drinks.
Tips
Allow the cake to cool slightly before removing it from the baking tray – you have to be a little careful because the cake is more crumbly than a regular sponge cake. If you will be icing the cake or not adding any toppings, let the cake cool completely on a wire rack. If you want to add cake spray, make a few holes in the top of the cake with a knife and spray with the spray while the cake is still warm. To make the drizzle mixture, mix the juice and sugars together and pour it as evenly as possible over the cake.
How to Make Sand Cake Without Oven
Grease a fry pan and heat on a stove.
Pour the cake dough into the pan and cover it with a lid.
let the cake bake for 15-20 minutes on low flame. then flip that side and let it bake for another 5 minutes.
Take off the cake on a serving pan.
You can grease it with sugar syrup or liquid chocolate or condensed milk.
How to make a sand effect on the cake?
Ground almonds or almond meals are ideal for creating a sand effect. It is quite pale, so if you are looking for a darker color, this may not be the right choice for you. To make edible sand from these you don't even need a food processor. You can crush them with a ziplock bag and a rolling pin.
You can use semolina for also create a sand effect. Just roast the semolina on a pan and use.
There is another option – take some biscuits in a plastic bag. Crush the biscuits and use
Read also
You May Also Like